I spent endless hot, summer days in darkness in the early 90s. Darkness lit with colourful neon and ultraviolet light. The soundtrack: worlds being defended, the roars of dinosaurs once more roaming the earth, feuds being settled or contests being won with kicks and punches. The smell of dry ice; the smog-like substance hanging thick in the air, lending everything a sort of dreamlike yet hyper-vivid quality.
Those hot summer days were spent at Fun Land in the Trocadero – Piccadilly Circus, London. It was there that I played – or saw – many games whose franchises are still around today. The first time I saw Mortal Kombat – as well as Mortal Kombat 2 & 3 – was here, when they were new, incredibly impressive games to behold. Huge, six person machines more akin to cinema screens – such as Namco's wondrous (but shallow) technical showcase, Galaxian3. Ridge Racer in a full size car; the crazy expense and vision needed to get these immense machines out into the wild is still something that blows my mind.
And yet, there was always a corner of Fun Land that had one foot firmly planted in the past, even though technology was advancing at such a rate as to bring it as far into the present as possible. Of course, I'm talking here about the defiant row of pinball machines they always had in Fun Land; initially, at least as far back as I remember, they were in amongst other new releases – not far from the Giger-esque bio-mechanical design of Space Gun's cabinet, or the super-wide six-player X-Men, for example. At first, I recall them having an Elvira machine (Scared Stiff, I think), along with Batman 89 and The Addams Family. There were a few more, though I don't recall which ones they were specifically.
Then, when they moved the pinball to a better lit – but less atmospheric and less frequented – upstairs location, they had an absolutely incredible line-up, at a time that I consider a true golden age for pinball design. Data East's Star Wars. Star Trek: The Next Generation. Lethal Weapon 3. Jurassic Park. The Twilight Zone.
And eventually, the one that really captured my heart: Creature from the Black Lagoon.
I've always been obsessed with monster movies. I grew up watching scary movies on VHS; most of them being films I was far too young to watch at the time. The old monster movies of the 50s were on TV a lot, however, or endlessly referenced in other media that I got my hands on in the 80s. I was only familiar with the Creature from the Black Lagoon's Gillman through the famous movie poster and the occasional reference in Fangoria – or the blatant homage from 1987's The Monster Squad, which paid tribute to the full, main lineup of Universal Monsters (Dracula, Frankenstein, the Wolf Man, the Mummy and the Gillman). I became, quite taken with the Gillman without even having seen the original film(s) he was featured in.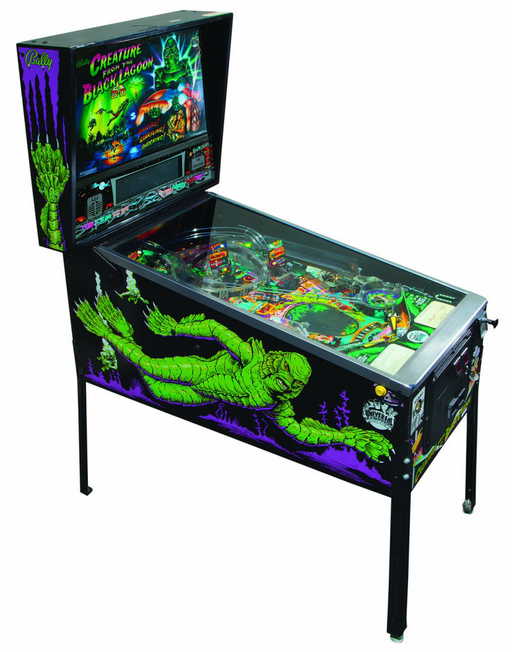 The pinball machine was a surprise. Most of the above referenced machines had contemporary, then-brand new licences – with the exception of The Twilight Zone (which remains another of my favourite pinball machines to this day, incidentally). It was defiantly retro in its theme and design – rather than a button or a pistol or some form of elaborately themed device to launch the ball, there was an actual, physical plunger – just like a proper, old-school pinball table. The game itself wasn't themed around the movie's plot itself, rather, it was about progressing through different stages around a drive-in cinema with the aim of getting the movie running.
It wasn't a complete throwback, of course. The layout and features of the table were modern, though not overly laden with the gimmicks and toys that were so fashionable at the time (the manual plunger was a definite throwback, however!). The biggest selling point – certainly for me – was the lagoon itself, which housed a 3D hologram of the Gillman, who made an appearance when certain goals were reached in game. This was, of course, a nod to the fact that the original movie was a 3D presentation, back when 3D was a huge, new thing for movies – sci-fi and horror in particular (the original film having been first released in 1954). To add to this, there are a number of references to 3D throughout the game; a number of characters wear their cardboard 3D glasses in scenes on the display, for example.
There was a great ramp system too, with one route ending at a whirlpool. The lighting and effects on these features were brilliantly implemented; the music featured cheesy, jaunty versions of classic 50s rock and roll songs in keeping with the theme. The ruleset was easy to follow and less convoluted than other tables released at the time, which made progression a lot easier, even if – as is generally the case with pinball, given its reliance on physical objects that don't always behave the way you expect – it's not that easy to pull off what you intend to do.
I couldn't get enough. To this day, if I happen upon a Creature from the Black Lagoon table in the wild, it's something I feel compelled to play. There's one in an arcade in Bournemouth, incidentally, that's been modded with some absolutely amazing coloured lighting – and the table itself is in superb condition, despite being not far off thirty years old.
Though it's always great to discover tables in the wild – and even better when they've been so well preserved or even modded, as long as the mods are in keeping with the original designs and are respectfully done – there's always the all-too-real danger that, as time goes on, the ones you happen upon have not been taken care of. That's something I experience too often, unfortunately. A '97 Sega Godzilla with busted flippers and filthy playfield in Weymouth, a Last Action Hero with bent metal parts just outside Barcelona and a row of tables in various states of disrepair at an arcade in Hayling Island (including The Addams Family, Red and Ted's Road Show and Theater of Magic); all examples of badly maintained machines that I've come across in the last few years. It's heartbreaking, but sadly inevitable, at least without the involvement of enthusiasts who appreciate what is truly a near lost artform.
Going back to the Creature from the Black Lagoon movie: I did manage to see it and, being fortunate enough to live in London at the time, I saw it in glorious 3D at the cinema – a 1950s revival night called Night of the Rock and Roll Alien Delinquents was held at the amazing Prince Charles Cinema in Leicester Square, with Creature from the Black Lagoon being one half of a double feature and just part of what was an amazing night of nostalgia. It didn't disappoint.
Though it is becoming increasingly difficult to play real pinball these days, digital versions are available to play. Sadly, licensing issues have recently meant that Creature from the Black Lagoon is no longer available for play on digital pinball game The Pinball Arcade, but – with the license for Williams tables having passed into the careful and talented hands of Zen Studios, we may yet see it resurface as part of their Pinball FX platform.
Pinball FX is superb, with a huge variety of tables both licensed and original – as well as an increasing number of classic Williams tables that they're releasing, with some excellent and respectfully added embellishments. Though the Pinball Arcade versions focused on recreating tables as authentically as possible, Zen recreate them with a number of touches that make them feel more modern and video-gamey, without taking away from the original rulesets or feel of the tables.
Though it wasn't Creature from the Black Lagoon that first inspired my love of pinball (true to form for me, my interest goes back way further than the early 90s), it certainly captured my imagination and my heart more than any other table has, either before or since. It's a classic – and one that'll always be very special to me.
If you've enjoyed reading this – or any of my other content – it'd be much appreciated if you're able to share this article via social media. I'd also be forever grateful if you're able to support me via: Ko-Fi.com/geekmid or PayPal – all of my work is provided for free and I earn no income from the blog, so any donations are gratefully received and assist me in keeping my writing dream alive. Above all else though, thanks for reading – I truly appreciate it!