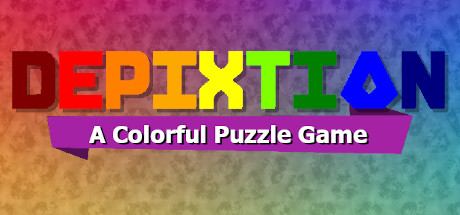 The first time I heard of Picross – many years ago – it was thanks to Nintendo and the game Picross DS. Given that it was so critically acclaimed, I was very keen to try it out. There was just one problem for me, however: I always found it really satisfying to build up a picture using the logic puzzle format of Picross, but I'm really not very good at it.
I've spoken about this problem before; perhaps, given that I have Autism Spectrum Disorder, it's just that this particular form of puzzle is something I struggle with due to my condition. In any case, it certainly doesn't stop me trying!
Having completed the first 20 or so puzzles in Depixtion (now available on Steam, but also planned for Switch, PS4, Xbox One, Vita and iOS, though there's no release dates yet for these further versions) I'm glad to say that so far, I'm not having the same problem here. Whether it's due to the addition of colour or the fact that perhaps I just haven't reached the point at which I'd normally struggle with the more challenging puzzles, I've found that Depixtion is not only a satisfying puzzle game, but also a relaxing one; this, I have to say, is unusual in my experience – often, Picross does end up frustrating for me, rather than relaxing.
There's definitely a unique feel to Depixtion, with its focus on building up layers of colour in different logic puzzles, before putting them all together to form a single, colourful picture. If you haven't played Picross before, the rules are simple: you're given an empty grid with numbers along the rows and columns. These numbers give you hints as to where in the corresponding row or column you should be filling in cells – and also where you should leave them blank.
Usually in Picross, this leads to a black and white picture being revealed as the puzzle is completed; in Depixtion, you'll be completing the puzzles a layer at a time, with different shades of the same colour also needing to be filled in as you finish the grid. Once one colour grid is done, you'll move onto the next layer – until you have enough layers to complete a fully colour picture. Then it's on to the next set of grids – and with 96 full pictures to complete, there's a huge total of 288 grids to solve.
Even if you aren't familiar with the basic Picross concept, the tutorial is straightforward and very helpful, so you'll be up and running in no time. Though there's the added complication of different coloured layers, in practice you'll be completing them in isolation, with the game taking care of putting them together – as a colour picture – once all three different grids are complete.
As well as looking pleasingly colourful – in stark contrast to most Picross-themed games – the soundtrack is nicely chilled out and definitely adds to the laidback, relaxing atmosphere.
In short, even for someone as logic-impaired as me, Depixtion is a game I can highly recommend to those gamers looking for a relaxing puzzler, albeit one that will gently test your brain. Great stuff from DevHour Games!
If you've enjoyed reading this – or any of my other content – it'd be much appreciated if you're able to share this article via social media. I'd also be forever grateful if you're able to support me via: Ko-Fi.com/geekmid – which would assist me in writing even more content just like this. Above all else though, thanks for reading – I truly appreciate it!