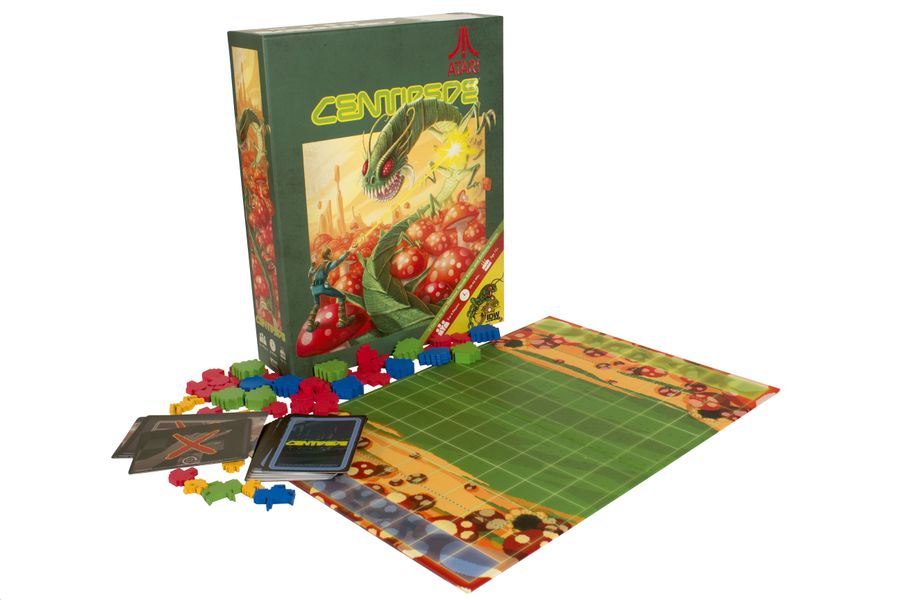 I've just managed to get hold of the board game version of classic Atari arcade/console game Centipede, and it occurred to me – when discussing the game on Twitter – that it might be useful to round up some of the excellent board games I've already covered. The Centipede review is on the way soon, but for now – let's take a look at some of the great games I've written about recently.
A cute little tower building game with a lovely cartoony design, this game is simple enough to learn and play in minutes; though aimed at younger players, it's great fun for gamers of any age.
As Keyforge is designed by the creator of Magic: The Gathering, you may be expecting it to be another collectable card game. However, though Keyforge definitely has plenty of depth, factions and a massively varied selection of cards across its various sets, the incredible USP is that the decks are purchased pre-constructed – and every single deck is completely unique. No deck construction is allowed, which means that players can't simply buy their way to victory or copy successful decks found online. It's a great game that has a refreshingly low cost threshold in comparison to games of a similar nature.
Wonderfully minimalist in visual design terms as well as size, Deep Sea Adventure is an excellent jaunt to the bottom of an abstractly represented ocean, where your divers push their luck in attempting to collect valuable treasures before their air supply runs out. Brilliant, challenging and very satisfying to play.
Another treasure hunting game -this one suitable even for very young players – Little Battle is a game of two halves. First, you'll build a pirate crew by drafting cards between players, then hopefully bluff your way to victory by competing to open treasure chests on the beach. Simple and with unusual mechanics for a game aimed at younger players, it's a fast playing and compelling game, though may not be of interest for players more used to more strategy in their tabletop games.
Being an adult is hard. Getting time to sit down and learn games, let alone play them, is really tough sometimes. Thankfully, 5-Minute Dungeon can be learned in a few minutes and always – due to it being timed – lasts exactly five minutes. It's a brilliant alternative to the type of dungeon delving found in Dungeons & Dragons or other, larger and more intricate board games – when time is short but you still want to scratch that gaming itch.
Let's fact it, ever since 1993 we've all wanted to build our very own dinosaur theme park, right? Duelosaur Island allows two players to do exactly that, with the player who attracts the most visitors being crowned the winner at the end of the game. It's more complex than any of the other games I've mentioned here, but it's well worth taking the time to learn. With brilliantly thematic mechanics, dice made to resemble amber and a wonderfully 90s colour art style, Duelosaur Island is highly recommended for the budding John Hammonds out there. It also has a more in-depth, much bigger brother called Dinosaur Island – and I'll be taking a look at that too, once I've had the chance to play it.
I'd be forever grateful if you're able to support me via: Ko-Fi.com/geekmid or PayPal – I earn no income from the blog, so any donations are gratefully received and assist me in keeping my writing dream alive, helping me to keep the website running and to bring you fresh new content on a daily basis. Thanks for reading – I truly appreciate it!
All donations are gratefully received and will help me keep the lights on here – as well as help to keep my writing dream alive! Please be aware though: there's no pressure. I just hope you've enjoyed reading my article!