I honestly don't know why I do this to myself. After covering three brilliant, incredibly clever, fourth wall breaking games in the Exit series, I'm now onto the fourth – The Stormy Flight. It's ridiculously hard to write a review of the Exit games, because the puzzles and even the box itself can contain spoilers. They are, however, worth covering and drawing attention to, because every one I've tried so far has been an exercise in incredible puzzle design.
The Stormy Flight is no exception. As with the other games in the series, players are essentially making their way out of an escape room, only this time the premise is that you're crew members on a plane that's caught in an electrical storm mid-flight – with the task of repairing the plane and landing safely being in your hands. The beauty of the Exit series of escape-room-at-home-style games is that all of the puzzle solutions are handled via a deck of cards and a code wheel; it's a straightforward, elegant system that is easy to get your head around if it's you're first game, but also instantly familiar if you've played another title in the series.
As is the case with the Exit series, the nature of the game means that each box can only be played through once. You'll be drawing, folding, cutting and rearranging components as well as manipulating pieces of the box itself. It's hugely creative and very involving for a group of players to get their teeth into; despite the sometimes dark-seeming subject matter, each one I've played so far has been family friendly and suitable for all ages.
This one was pitched at a difficulty level of 2 out of 5, which is classed as 'Beginner'; though I'm familiar enough with the series that I could probably move up to a higher challenge level with the next title I try, there are times where I found myself really stumped even in each of the Beginner titles – so I dread to think how slowly I'd make my way through a more intentionally tricky challenge.
That said, The Stormy Flight is the first of the titles I've played in which I didn't need to use at least one solution card. In each Exit game, a hint deck is provided, in which two hints and a solution card are included for each puzzle in the game; normally, I've found myself needing the solution to at least one puzzle after getting stuck. This time, however, all I needed when hitting a brick wall was a single hint card for the duration of the game.
Despite the fact that I was able to conquer the game with only one hint, The Stormy Flight did take a little longer to get through than other Exit games I've played. Coming in at a little over 90 minutes (with the target being an hour), my final score was a not-very-impressive five out of ten. The game duration and final score can be calculated using the excellent Kosmos helper app, which contains themed timers for every Exit game currently available (it even has themed ambience to set the mood as you play – in this case the sounds of a storm and the occasional chatter of a plane's radio communication).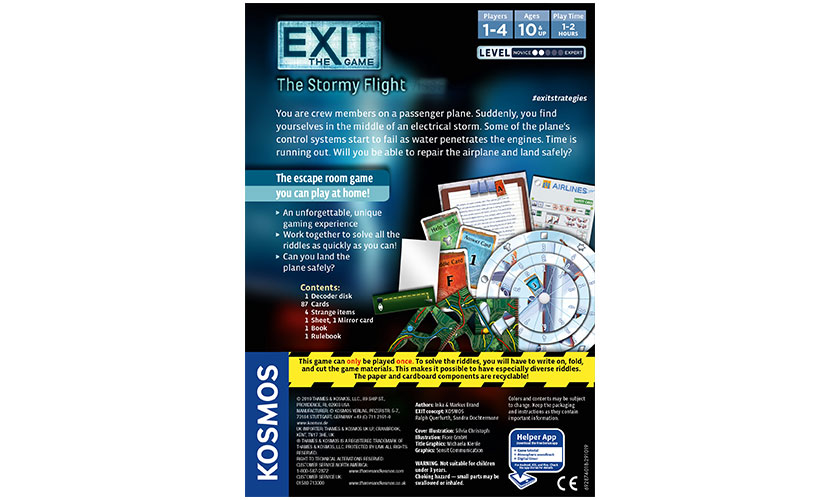 So, as you can probably gather, this is another worthy, challenging and extremely enjoyable game in the series. Though life itself feels a little bit of an escape room at the moment with lockdown hitting many of us hard, the Exit games are a great way to spend some time exercising your grey matter while stuck indoors. Though short experiences – usually 60-90 minutes – they're extremely memorable and addictive. I can't wait to get stuck into another one.
Enjoyed what you've read? Want to support my blog? There's no pressure of course, but every penny helps to keep this site running, as I earn no income from my writing here (though I may earn small fees from affiliate links posted on my pages).
However, I'd be truly grateful for any support that you could offer – and it's easy to do so at either of these links: Ko-Fi.com/geekmid or PayPal.
Any donations are truly appreciated – and I also appreciate you taking the time to read my articles. Thank you so much!
All donations are gratefully received and will help me keep the lights on here – as well as help to keep my writing dream alive! Please be aware though: there's no pressure. I just hope you've enjoyed reading my article!