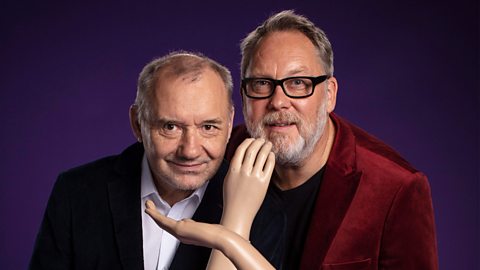 Though I didn't quite get the scattershot, mile-a-minute surrealism of Vic Reeves Big Night Out immediately – in my defence, I was a young lad, aged about 12 – by the time that Vic and Bob switched from late night Channel 4 to the BBC with their second series, The Smell of Reeves and Mortimer, I was completely converted.
A friend of mine commented that all they did was 'sit at a desk and talk shit' and to the casual viewer, yes that most certainly is all they did. But to the fan, there was so much more than them just sitting at a desk and talking shit.
Though the shit they talked at that desk was always hilarious, in fairness.
With a wealth of characters played by themselves and a variety of guest stars, as well as appearances from the odd celebrity here and there (usually playing themselves), their shows have always had a real variety feel, especially given that they would often start and end with a song.
Their most recent outing – which is the second set of four episodes titled 'Vic and Bob's Big Night Out' doesn't try and reinvent the wheel or bring much new to the format of old. In fact, it hearkens back to – and features – characters they created as far back as 1990's Vic Reeves Big Night Out than anything else they've done since.
Thirty years on, however, that's a comforting thing. Though Judge Nutmeg, Novelty Island and Graham Lister, to name a few examples, may be familiar to us long term fans, they've barely aged – due to the fact that their appeal isn't based on anything but timelessly surreal catchphrases and off kilter improvisation.
There's new stuff here too; Bats on the Pot, featuring a rotating cast of superheroes talking to Batman on the toilet, is a weird, crude cartoon featuring Geordie comic book characters rendered in Vic's distinctive, deliberately exaggerated art style. Comedian Vaun Earl Norman, who cameos in each episode to ask what Vic and Bob are up to ("What are you doing? Telling jokes? Having a daft laugh?") before engaging them in an always leftfield conversation, is another fresh highlight of the series.
It's one for the fans, because if you're not familiar with their output prior to this series, you're probably going to be scratching your head – unless you can tune into the duo's particularly unique brand of improvised and semi-improvised live and pre-filmed daft laughs. It's a refreshingly non-topical and off-kilter series though, perfect stuff to make you smile at this particularly difficult point in time.
Vic and Bob's Big Night Out series two is currently available to watch via BBC iPlayer.
I'd be forever grateful if you're able to support me via: Ko-Fi.com/geekmid or PayPal – I earn no income from the blog, so any donations are gratefully received and assist me in keeping my writing dream alive, helping me to keep the website running and to bring you fresh new content on a daily basis. Thanks for reading – I truly appreciate it!
All donations are gratefully received and will help me keep the lights on here – as well as help to keep my writing dream alive! Please be aware though: there's no pressure. I just hope you've enjoyed reading my article!