Available for: Windows – Buy: Steam or itch.io – By: Nick Lives (Steam & itch.io)
When I first checked out Doodle Date, I thought it looked like a light-hearted, creative little spin on the dating sims that seem so prevalent these days. Whimsical illustrations accompany the screenshots and trailer – and even though my artwork is nowhere up to the standards presented, I still thought I'd have a really fun time with it.
However, it wasn't quite the light-hearted experience I was expecting. Not that I didn't enjoy the experience of playing through Doodle Date a few times to get each ending, but it goes to some very unexpectedly dark places. Though you start off drawing your favourite fruit (which can, weirdly, pop up again in the story), you'll soon be drawing your date in a variety of poses and moods.
You may even get to draw your date in a sexy pose and do some quite adult things with them. Things can get weirder – and more horror-tinged than that though…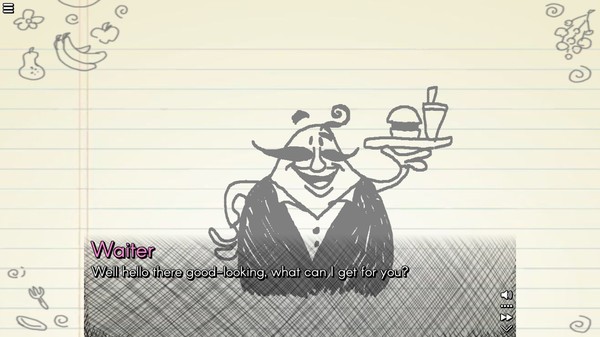 There's other things – and characters – you can draw along the way too, so as well as picking your way through the story as you see fit, your experience always feels completely unique due to the fact that you'll doodle so many elements as you go.
It's a short experience – probably not much more than an hour or so, even if you go for each ending; unless of course you're a bit more of a perfectionist with your drawings than I am (note: the screenshots I've used here are from the game's product page – the world isn't ready for my attempt at sexy doodling). I personally felt that Doodle Date was worth experiencing for just how batshit insane it can get – no spoilers, but at least knowing it can get incredibly dark (and more sexual than you may initially expect) will hopefully make sure you know whether or not it's for you.
Enjoyed what you've read? Want to support my blog? There's no pressure of course, but every penny helps to keep this site running, as I earn no income from my writing here. If you did want to support the site and my writing, you can do so at either of these links: Ko-Fi.com/geekmid or PayPal. Any donations are truly appreciated, but so is the fact that you took the time to read my articles. Thank you so much!
All donations are gratefully received and will help me keep the lights on here – as well as help to keep my writing dream alive! Please be aware though: there's no pressure. I just hope you've enjoyed reading my article!