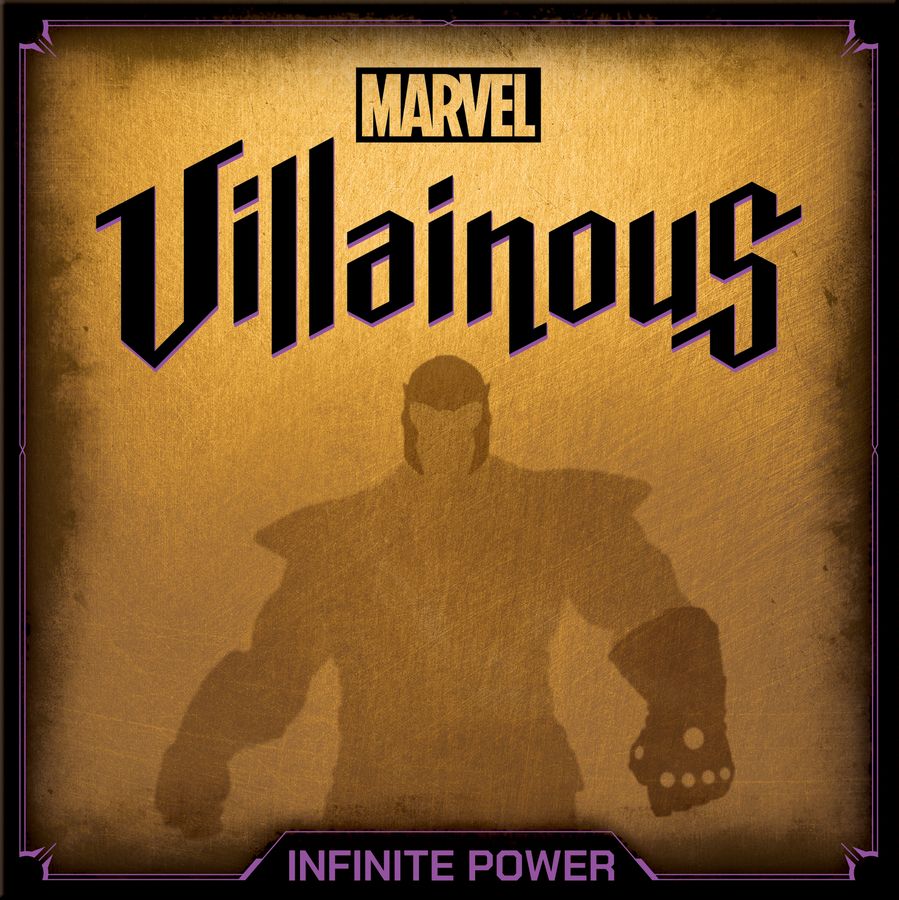 It's hard to believe that Ravensburger's excellent Disney Villainous has only been around since 2018. A game in which players each take the role of a different Disney villain, it's already seen numerous expansions which can be played without the base game or by combining any of the villains from any set to compete in a struggle to be the most evil of them all. It's a brilliant, nicely asymmetrical design that feels unique for each character you play as, which gives the game a great deal of longevity. The theme – as is to be expected from Ravensburger and design collective Prospero Hall, who are almost peerless when it comes to designing licensed games that do the source material justice – is deeply and satisfyingly interwoven into the gameplay. It's fantastic stuff.
It's great, then, to see the gameplay move outside of the disparate collection of villains from different Disney movies into the shared continuity of the Marvel Universe with Marvel Villainous: Infinite Power. As with the original Disney titles in the Villainous series, each player is a villain with their own unique goal and their own board (or Domain, in the terms of the game), along with their own deck of Villain cards and Fate cards, the latter of which are shuffled into a communal deck that everyone draws from when triggering a Fate event.
It's immediately striking how lovingly designed the game is from a visual point of view, which is no surprise given the high production values that Ravensburger are known for. Everything is covered in appropriate thematic elements, including the card titles, featured characters (both villainous and heroic) and general design of things such as icons used. The villain pieces themselves are gorgeous in their design and wonderfully hefty in size too.
With the gameplay being so similar to Disney Villainous, it's clear that an 'if it ain't broke, don't fix it' approach has been applied, yet thanks to these aforementioned thematic elements there's an undeniably unique feel to the game; the characters featured and their goals all feel so wonderfully appropriate – Thanos collecting the Infinity Stones, Ultron triggering the Age of Ultron and Killmonger taking control of the Wakandan Vibranium Mines, for example.
There's a few issues that stop it short of being a completely unmissable experience, however. Perhaps due to the asymmetric nature of the game and the fact that each character plays very differently, it can make the game a little difficult to learn and teach (though this is also true of Disney Villainous). There's a small number of omissions in the rules that aren't covered even in each villain's unique booklet supplement either – sometimes causing issues to arise in play, which can come up due to a lack of detail on cards or certain situations occurring – that aren't covered, causing unnecessary confusion. Plenty of clarifications can be found at Board Game Geek's Marvel Villainous page, however – which does help.
However, once you've got the basic turn order and general gist of how to accomplish your chosen villain's goal, the game does move very quickly – it boils down to moving your character to a new space, using whatever actions are available at that space and then drawing your hand back up to four cards (if you have less). It's pretty straightforward, though of course the aforementioned complications do come into play at times – for instance, Thanos and the Infinity Stones get an entirely separate section in the rules due to the way they're handled (it's probably advisable to not use Thanos for your first game while you learn how to play!). There are three difficulty levels to choose from when playing though, which means that you can scale a little bit of the complexity/difficulty back until you're ready to take the game to the next level.
Despite the few issues I found with the rules and the difficulty in teaching the game, Marvel Villainous is still an excellent experience – particularly for fans of Marvel movies and comic books. The characters included will, for the most part, be very familiar to fans of the movies even if they don't have intimate familiarity with the comics (though Taskmaster, given that he's in the currently-delayed Black Widow movie, might be the only character that doesn't strike a chord), but that knowledge isn't required to enjoy the game anyway. It's another excellent experience from Ravensburger and I'm incredibly keen to see it expand in the same way that the Disney Villainous titles have in the last few years.
Many thanks to Ravensburger UK for providing a copy of Marvel Villainous for review purposes.
Enjoyed what you've read? Want to support my blog? There's no pressure of course, but every penny helps to keep this site running, as I earn no income from my writing here (though I may earn small fees from affiliate links posted on my pages).
However, I'd be truly grateful for any support that you could offer – and it's easy to do so at either of these links: Ko-Fi.com/geekmid or PayPal.
Any donations are truly appreciated – and I also appreciate you taking the time to read my articles. Thank you so much!
All donations are gratefully received and will help me keep the lights on here – as well as help to keep my writing dream alive! Please be aware though: there's no pressure. I just hope you've enjoyed reading my article!