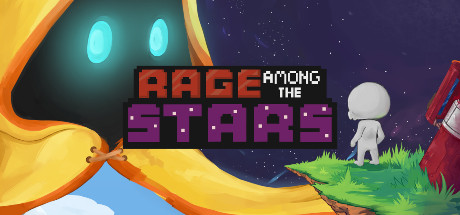 Available Now on Steam (£2.89)
There's a certain breed of infuriatingly tough 2D platformer that, done right, can be incredibly addictive. Games such as Super Meat Boy, for example; super fast, incredibly hardcore experiences that – despite difficulty levels that can induce serious anger – are still incredibly addictive, almost endlessly leading to just one more go. They're certainly built to bring out the more masochistic traits in us gamers.
Rage Among The Stars is a platformer of this ilk. It's a well produced game with an excellent soundtrack and ridiculously tough level design that still manages to be appealing, despite the sky high difficulty level.
For those mere mortals among us who don't have the godlike skills necessary to get through much of the game, thankfully there's an easy mode – which removes some of the more deviously placed obstacles and gives your cute little alien a flower in its hair.
The key thing with games of this nature is that every mistake, every dead added to the death count is not seen as a fault of unfair game design – I mean, sure – there's an unreasonably high number of spikes and spinning deadly things in the level, but you do recognise when you're dying over and over again in the same spot that it's your fault. If only you'd held the jump button down a little longer. Or not as much. Or twice. You know what to do, it's just your lack of skill that's holding you back. It's the 'git gud' school of gaming.
It's reasonably priced – it'll set you back less than the price of a coffee – and there's 40 ridiculously hard levels to make your way through (good luck with that, even on the easy mode!) – so it's great value. Well worth checking out if super hard, fast paced platformers are your thing.
Disclaimer: I was provided with a code for Rage Among The Stars for review purposes by the game's publisher.
I'd be forever grateful if you're able to support me via: Ko-Fi.com/geekmid or PayPal – I earn no income from the blog, so any donations are gratefully received and assist me in keeping my writing dream alive, helping me to keep the website running and to bring you fresh new content on a daily basis. Thanks for reading – I truly appreciate it!
All donations are gratefully received and will help me keep the lights on here – as well as help to keep my writing dream alive! Please be aware though: there's no pressure. I just hope you've enjoyed reading my article!