The 'Universal Classic Monsters' movies – the first example of a cinematic shared universe – kicked off in the 1920s with The Phantom of the Opera, though the most famous and widely seen Universal Monsters are Dracula, Frankenstein's Monster, The Wolf Man, The Invisible Man, The Bride of Frankenstein and the Creature from the Black Lagoon.
All of the most famous, classic monsters feature in Ravensburger's Horrified board game, a co-op board game in which players must work together to stop the monsters from taking over a terrified village. Two or more antagonists are chosen from the classic Universal Monsters roster for players to defeat, with different tasks and methods required to defeat each of the monsters.
As a lifelong fan of the iconic Universal Monsters, everything about Horrified seems to have been precision engineered to appeal directly to me. The graphic design of the entire package, from the wonderful box art to the beautiful depictions of the Monsters and the brilliantly lurid colours used throughout is absolutely second to none. Even opening the box is a delight, finding a witty, tongue-in-cheek warning – about what you're letting yourself in for – printed on the board.
Gameplay is extremely straightforward, taking more than a few cues from Pandemic. Players each have a character with their own special ability and a certain number of actions they can take on their turn; actions can be used to move, pick up items, use or trade items or to help guide terrified villagers to their safe space.
Each monstrous adversary has a unique feel, with not only special abilities but also different ways to defeat them – exploring in a boat to find the Creature from the Black Lagoon's lair or smashing coffins to weaken Dracula before striking him down, for example. Every Monster's board is designed incredibly differently and thematically according to their own lore, which is incredibly satisfying, shows great attention to detail and a clear passion for the source material (my favourite of these is probably the Frankenstein/Bride of Frankenstein board with their dials – Frankenstein's dial going to 11 is perfection). Each monster is also represented by a reasonably detailed figure; villagers and players are represented by perfectly functional cardboard pieces – but the monsters are a nice addition to the components and are well designed to personify the characters from the movies. The board itself can change thanks to overlays placed at specific locations when certain monsters are used; the design of the game is incredibly satisfying.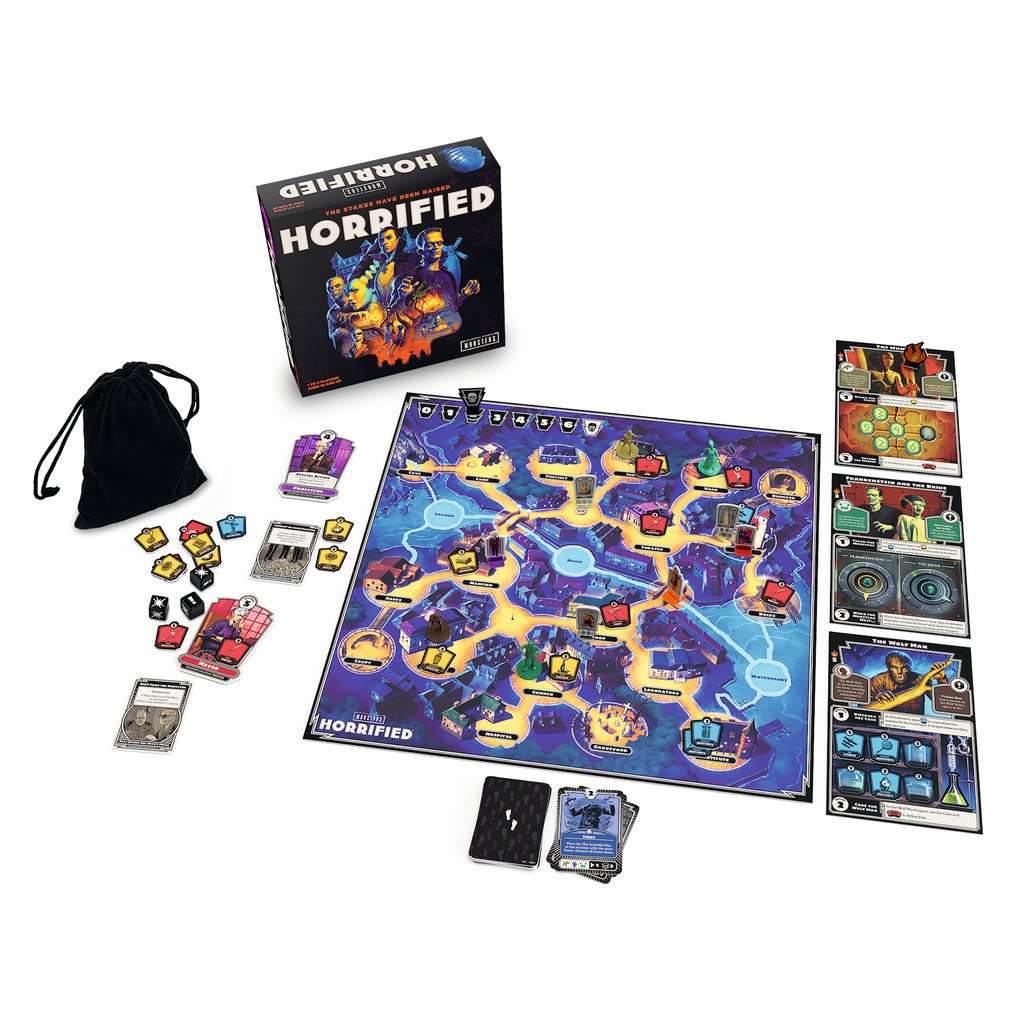 The villagers that you'll try to rescue throughout the game are drawn from the various stories of the Universal Monsters – and are also thematic in terms of where they need to get to in order to be saved.
Though there's only one way to win – defeating all of the monsters in play – there's a number of ways to lose, and Horrified can be a pretty challenging game, even on its easiest difficulty level. That said, it's an exciting and tense challenge, rather than a frustrating one – and there's always the sense that you'll do better next time.
There's even a single player mode, though the game doesn't go particularly easy on a lone monster hunter either!
As a big fan of co-operative games and Universal Monsters, Horrified is game that I absolutely adore and can highly recommend. The wonderful, respectful use of the Universal Monsters licence ensures that the theme is incredibly well integrated with the gameplay and the selection of monsters – with their unique tasks to complete – give the game an incredible sense of variety and a brilliant monster movie atmosphere. It's easy to learn, plays in a reasonable time (around 45-60 minutes), has a huge amount of variety and longevity – and is one of my favourite games of the last few years, if not ever. Absolutely superb.
If you've enjoyed reading this – or any of my other content – it'd be much appreciated if you're able to share this article via social media.
I'd also be forever grateful if you're able to support me via: Ko-Fi.com/geekmid or PayPal – all of my work is provided for free and I earn no income from the blog, so any donations are gratefully received and assist me in keeping my writing dream alive.
Above all else though, thanks for reading – I truly appreciate it!
All donations are gratefully received and will help me keep the lights on here – as well as help to keep my writing dream alive! Please be aware though: there's no pressure. I just hope you've enjoyed reading my article!