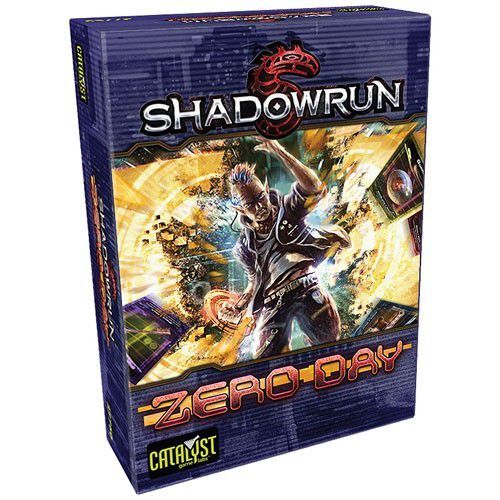 Though I've just covered another Shadowrun board game this week (the Lords of Waterdeep-esque Shadowrun: Sprawl Ops), I've also recently acquired two player card game Shadowrun: Zero Day.
For once in a Shadowrun game, the complexity and buckets-of-dice elements are dialled down or tossed out entirely, leaving a more focused, fast-paced experience that goes all in on presenting just one aspect of the Shadowrun universe: hacking.
Each player is a hacker (or 'decker', in Shadowrun terms), aiming to hack corporate countermeasures with their deck of attack cards. Players take turns to place either a coloured card type (so they're allowed to play multiples if they have cards of the same colour in their hand) against a countermeasure of the same colour. This 'marks' the countermeasure with one (or more, depending on the number of cards played) of the active player's cubes. When the total number of cubes (ie from both players) marking a countermeasure matches the target number, the card is taken by the player who has the most cubes on it. That player also takes the data token on the card, which are scored at the end of the game.
Interestingly, the losing player – provided they had at least one cube on the card – also gains a data card of their choice from a face up selection, which can give them bonuses during the endgame scoring. Some countermeasure cards also have special, specific effects that occur when the card is scored and this can affect either the winner or the loser of the card.
If a player is able to play a coloured card that can't be matched to a countermeasure in play, they can mark a megacorporation card. Another way to mark a megacorporation is to play a card that would cause more cubes to be on a card than the target number. Guard cards are a further type of card that can be played, which allow a cube of either player's colour to be moved (either from countermeasure to countermeasure or from megacorporation to megacorporation, but never between the two).
When either three megacorporation cards are scored or the countermeasure cards run out, the end game is triggered and victory points ('paydata' on each card, along with bonuses from data tokens and data cards) are calculated and the winner is the player with the most points.
It's extremely straightforward and plays really quickly, with the game being very competitive, with players fighting to complete cards before their opponent nabs them. It's incredibly satisfying to play.
Visually, it has a nicely colourful, yet dark look – a perfect representation of the glowing, neon-drenched aesthetic that's so prevalent in Shadowrun. The artwork is phenomenal, as is to be expected these days with Shadowrun – it's one aspect of the franchise that always seems to get a great deal of care and attention.
Nothing is done with the more fantastical elements of Shadowrun, however, with the game feeling more like straight cyberpunk than the orcs-and-elves-infested sprawl we're used to – but that's not really an issue, given that the game is deliberately focused on a very specific aspect of the Sixth World.
It's well worth a play, especially as it can now be purchased pretty cheaply. It's an easy to learn but nicely strategic little game that fits a decent amount of gameplay into a small package with minimal components. If the fantasy elements of Shadowrun put you off, don't worry; you won't see any of that here beyond the box art.
Enjoyed what you've read? Want to support my blog? There's no pressure of course, but every penny helps to keep this site running, as I earn no income from my writing here. If you did want to support the site and my writing, you can do so at either of these links: Ko-Fi.com/geekmid or PayPal. Any donations are truly appreciated, but so is the fact that you took the time to read my articles. Thank you so much!
All donations are gratefully received and will help me keep the lights on here – as well as help to keep my writing dream alive! Please be aware though: there's no pressure. I just hope you've enjoyed reading my article!