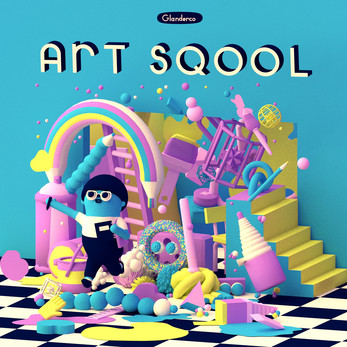 Available as part of the itch.io Bundle for Racial Justice & Equality (which now features an incredible 1658 games and has raised more than $6m for a very worthy cause), Art Sqool is an odd, but charming and very absorbing game in which you'll create art based on prompts given to you by an AI tutor, with the ultimate aim to complete 50 pieces and graduate from school (or 'sqool').
You control geeky character Froshmin in third person; once you're given your assignment, you can wander the pastel coloured, floating islands of the Sqool for inspiration and to find more colours and tools to assist with your art pieces. Once you've completed your piece, you can either go through the door of any building you happen upon or throw yourself off an island's edge; either way, you'll end up being given a grade by the AI on your final work of art.
It's a game that lets you be as creative as you want to be, within the constraints of the tools of course. There's a total of 16 tools to find, with some of them capable of adding delightfully surreal touches to the art you make. Though the artwork prompts can be oddly specific and potentially abstract in nature, the AI won't always be able to grade your piece how you expect it to; it seems almost random, which is one of the few disappointments in the game. You'll sometimes put lots of effort into a piece that'll arbitrarily fail, while another, similar picture may well earn an A.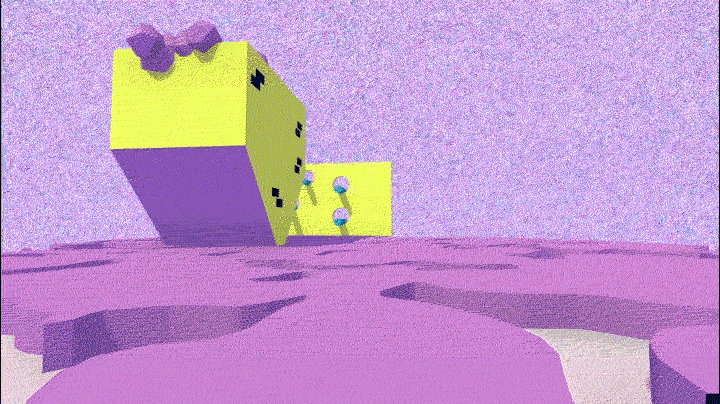 There's little musical interludes dotted between assignments that always raise a smile and the soundtrack in general is nicely chilled out.
It's clearly a game made on a small budget, but the core concept carries it through, with the creation of artwork being addictive and leaving you feeling very creative – even if you're not very good at using the tools at your disposal (as you'll see from the examples of my own art created in-game dotted throughout this article, I certainly can't claim to be particularly skilled myself, to say the least). In a neat touch, each piece of art you create is saved in a folder on your hard drive automatically, allowing you to build up a portfolio of what's likely to be quite wonky, bizarre pieces of art.
With only six colour swatches to find (though the palette in general does change between assignments) and sixteen tools, it won't take you long to reach 100% completion in the game, especially as you only need to create 50 art pieces in total to reach the end of the story. Yet it's still a game I'd recommend; with the art prompts being drawn from a pool of more than 200, there's a certain amount of replayability here – and even if you do end up with the same prompt, you'll certainly not end up with the same finished piece of art twice.
Art Sqool is a brilliantly surreal and compelling little game while it lasts though – and for the next two days at least, you can pick it up AND be doing something awesome for charity. A real hidden gem.
Enjoyed what you've read? Want to support my blog? There's no pressure of course, but every penny helps to keep this site running, as I earn no income from my writing here. If you did want to support the site and my writing, you can do so at either of these links: Ko-Fi.com/geekmid or PayPal. Any donations are truly appreciated, but so is the fact that you took the time to read my articles. Thank you so much!
All donations are gratefully received and will help me keep the lights on here – as well as help to keep my writing dream alive! Please be aware though: there's no pressure. I just hope you've enjoyed reading my article!