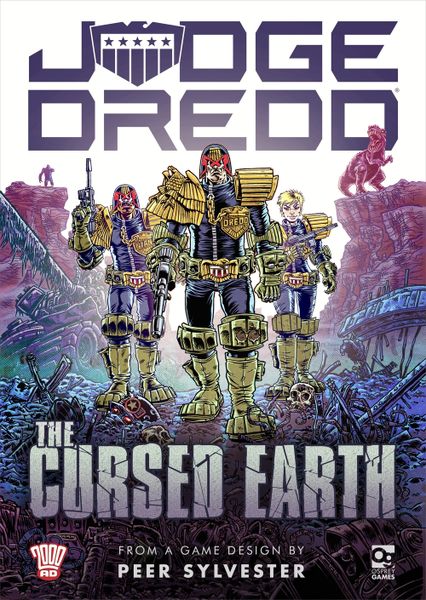 British comic book character Judge Dredd has been perenially popular since his introduction in the second issue of 2000AD in 1977 (which was, coincidentally, the year I was born). The no-nonsense, somewhat fascistic Dredd is a darkly humourous anti-hero who patrols the mean streets of Mega-City One in a post-apocalyptic future.
Outside the walls of the city are the mutant-infested, irradiated wastelands of The Cursed Earth, and it is of course here that we find ourselves in the game of the same name. Attempting to track down the carrier of a virus before the bad guys find him first – and use the virus he's carrying to infect the mostly healthy urban population of Mega-City One.
A retheming of Peer Sylvester's The Lost Expedition, The Cursed Earth can be played solo or by multiple players in co-operative or versus modes. Whichever way you play, it's an incredibly challenging experience – one in which victory is likely to feel like quite the achievement. I wouldn't know – at this stage, despite playing a number of times in both solo and co-op modes, I haven't even come close to winning.
Thankfully, I've still enjoyed playing. Players have three Judges – the eponymous Dredd, plus Judge Giant and Psi-Judge Anderson – and if all three die, it's game over. Pretty much everything you encounter is deadly and causes health drops, radiation poisoning or ammo to be used; encounters are played in turn by each player – with them being carried out in number order during the daytime phase of the game or in the order of play at Dusk. It leads to some really tough decisions as to what to play, as you'll be desperately trying to keep your Judges from dying as well as managing their rather limited resources and helping them to move towards their goal at the same time.
It can feel pretty overwhelming – as well as impossible to succeed – most of the time. It can also feel very frustrating that many times, success – or, more accurately, the lack of it – can be so reliant on the luck of the draw. And yet, I can't bring myself to hate The Cursed Earth. It's a pretty compelling game that features lots of tough decision-making – and it's very well designed from a visual point of view. The illustrations – by Dan Cornwell and Rufus Dayglo – are superb and give The Cursed Earth a nicely thematic, narrative feel as events play out.
The Dredd comic strip in the rulebook, which acts as a prologue to the events of the game is an excellent touch, but hough the oversized cards, book-esque box and brilliant component holder (in the form of a Justice Department Rations pack!) are all superb, the tokens used feel really thin and flimsy. It doesn't detract from the overall experience, but I do wish they'd been of higher quality.
It's definitely a game to check out for fans of Dredd, though do be warned – as I've tried to stress – that even though it's very straightforward to play, it is very tough to win.
A solo mode is always welcome in a tabletop game and here, it plays almost as well as the multiplayer options on offer. It's a relatively inexpensive game in a nicely compact package too, even if the component quality is a mixed bag. It'd be nice to see The Cursed Earth get some expansions – the game that it's based on, The Lost Expedition, has been blessed with further adventures – especially if the difficulty could be dialled down a notch. After all, Mega-City One's most badass Judge should expect the odd victory here and there – yet The Cursed Earth seems to have other ideas.
Enjoyed what you've read? Want to support my blog? There's no pressure of course, but every penny helps to keep this site running, as I earn no income from my writing here (though I may earn small fees from affiliate links posted on my pages).
However, I'd be truly grateful for any support that you could offer – and it's easy to do so at either of these links: Ko-Fi.com/geekmid or PayPal.
Any donations are truly appreciated – and I also appreciate you taking the time to read my articles. Thank you so much!
All donations are gratefully received and will help me keep the lights on here – as well as help to keep my writing dream alive! Please be aware though: there's no pressure. I just hope you've enjoyed reading my article!