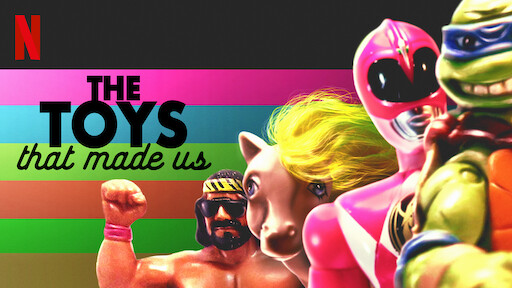 I reviewed a single episode of Netflix series The Toys That Made Us recently (the one covering Teenage Mutant Ninja Turtles) and found it to be full of interesting details about how the turtles became such a phenomenon. What I found most intriguing was just how much of what we know about the franchise – what we perhaps take as elements that were always there from the beginning – were added in order to make the property more palatable to younger audiences, not to mention more 'toyetic'.
The rest of the series is full of episodes that contain some absolutely fascinating behind the scenes information, with the most interesting situations – for me, at least – detailing the struggles for rights to make toys from competing manufacturers or the fight for recognition from the various creators that had a hand in making the toys featured.
As well as detailing these struggles, it's also endlessly interesting to find out completely new stuff about the toys we grew up with. Who knew that Hello Kitty was supposed to be a British, human girl? What about the doll that Barbie was based on being one representing a character from a lewd German newspaper comic? Or Power Rangers falling into the hands of Disney for a short period? It's details like these that truly make the history behind these products come alive.
I'm still not overly keen on the hyperactive style of cutting between interview subjects, which will often repeat clips or use out of context reactions to raise a laugh. The theme song and intro animation is horrible, too – there's no getting around how cheap it looks.
Yet the show's deep delve into toy history is fascinating no matter the subject – and really brings to light the history beyond the toys in episodes focusing on professional wrestling and Star Wars, as two examples. It's a near essential show for those of us now in our 30s and 40s (yep, I'm in the latter camp), regardless of whether or not you had or played with the toys featured.
Enjoyed what you've read? Want to support my blog? There's no pressure of course, but every penny helps to keep this site running, as I earn no income from my writing here (though I may earn small fees from affiliate links posted on my pages).
However, I'd be truly grateful for any support that you could offer – and it's easy to do so at either of these links: Ko-Fi.com/geekmid or PayPal.
Any donations are truly appreciated – and I also appreciate you taking the time to read my articles. Thank you so much!
All donations are gratefully received and will help me keep the lights on here – as well as help to keep my writing dream alive! Please be aware though: there's no pressure. I just hope you've enjoyed reading my article!