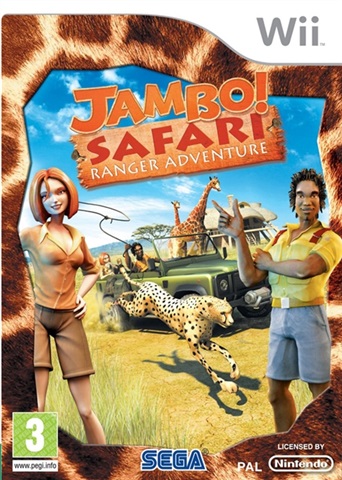 Version Played: Wii
Current CEX Price: £2
The late 90s/early 00s was a time when arcades still felt like they had new experiences to offer that you couldn't replicate at home, or at least not to the same effect. Sega was releasing some absolutely wonderful games; though some received home conversions – and ports like Crazy Taxi for Dreamcast went out of their way to flesh out the experience to ensure that players were getting a lot more content than that found in the arcade version – others remained in the arcade, often due to unique control methods or the sense of scale. As an example, Top Skater – one of my favourite arcade games of the era – was never converted; it relied so much on being a larger than life experience with a unique skateboard controller that it was unlikely to work effectively in a home setting.
And so it seemed with Jambo! Safari, yet the Wii – which arrived in 2006, seven years after the Jambo! Safari arcade game was released in arcades – brought with it numerous, non-traditional control options. Perfect for games such as Jambo! Safari, then.
Or so you'd think. In fleshing out the experience for the home – as they did with the aforementioned Crazy Taxi home port – Sega really seemed to bite off more than they could chew. The bright and colourful visuals of the arcade game have been replaced with some very muddy, blurry and low resolution graphics. To top it all off, the animation is awful and there's also some really bad pop-in as you drive around the safari park, catching often-reluctant animals.
This isn't something I normally worry about; I don't often judge a game by poor visuals – gameplay is the most important aspect of any game, as far as I'm concerned. So luckily, though there's an over-reliance on motion controls to catch animals – with some annoyingly repetitive steps to go through – it's not too bad in this area.
There's a nicely open feel to the game, even if the core gameplay mechanic is somewhat repetitive and, at times, frustratingly inconsistent. There's a decent variety of missions and it's pretty cool to collect different types of animals and nurse sick beasts back to health. It's a relatively big game, with an arcade mode and even some multiplayer party games thrown in too (though the party games are variable in quality, to say the least – and truly feel like an afterthought). It all feels a little too simple, however, with the only real complication coming in the form of the controls, that you'll spend far too long wrestling with when you play.
So the all-important Bargain Bin question: is it worth the current asking price? Given that it's pitched deliberately at kids (the difficulty levels are labelled for players aged 10+ or under 10s – and there's a slight educational element to the proceedings too), I'd say it's only really worth it if you have younger players in the family (changing the difficulty level for under 10s simplifies the animal-catching steps, thankfully – though the catching itself is still frustratingly inconsistent). Unless you have a real fondness for the arcade original, I wouldn't bother with this one – the controls unfortunately hamper much of the fun that could have been had here. A disappointment and missed opportunity, overall.
If you've enjoyed reading this – or any of my other content – it'd be much appreciated if you're able to share this article via social media. I'd also be forever grateful if you're able to support me via: Ko-Fi.com/geekmid – which would assist me in writing even more content just like this. Above all else though, thanks for reading – I truly appreciate it!