Version Played: Steam (also available on Android and iOS)
To say that I was obsessed with Steve Jackson and Ian Livingstone's Fighting Fantasy books as a kid is the understatement of the century. I absolutely lived and breathed them; though I couldn't afford to buy them new most of the time, I would borrow any I found in my local and school libraries, get them for pennies from car boot sales or swap them with friends. One of my primary school teachers revealed to me that he went to university with Livingstone (hello Mr Bates!) and almost certainly regretted it immediately, given how I'd ask him questions about my then-literary hero at every opportunity.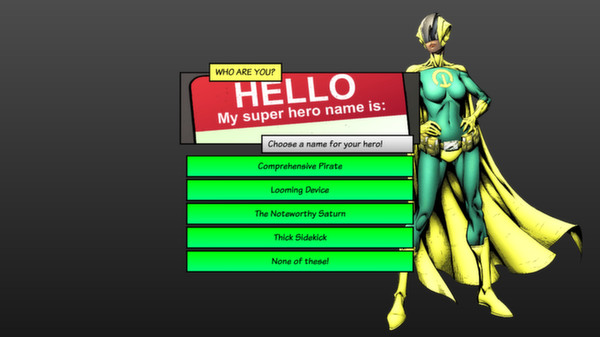 Though many of the most famous Fighting Fantasy books were – as the series name would suggest – set in the fantasy genre, my favourite ones were those that ventured into different areas. The horror themed House of Hell, Star Trek-esque adventures of Starship Traveller or the inventive cowboy mechs vs dinosaur fun of Robot Commando, as just a few examples.
Another one of my favourites was Steve Jackson's superhero tribute Appointment with F.E.A.R. Casting you in the role of a superhero – whose specific powers (or, if you choose, talent for creating gadgets) are decided upon by you at the beginning of the book – and which can alter the choices available to you as you progress through the story (another point worthy of note: the original book's cover was a stunning one, being illustrated by none other than the legendary Brian Bolland).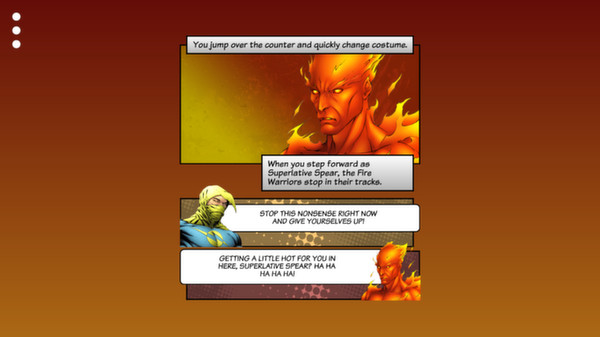 The story itself isn't particularly strong – seeing your unique hero's attempts to stop the Titanium Cyborg's organisation of super villains, the eponymous F.E.A.R., from achieving world domination – but what's interesting is the way that you go about your business on a relatively small scale, stopping crimes or investigating clues over a three day period in a way that can lead to quite a range of different events. It's very different to the usual feel of a Fighting Fantasy narrative and plays into the comic book aspects well. There's a huge amount of references to classic comic book characters and settings – many of which probably flew over my head as a kid.
The digital version adds some decent new features that give the book an even more interactive feel, as well as quality-of-life improvements that reduce the amount of repetition after you lose (and you will!), as well as give players a reason to replay the story lots of times.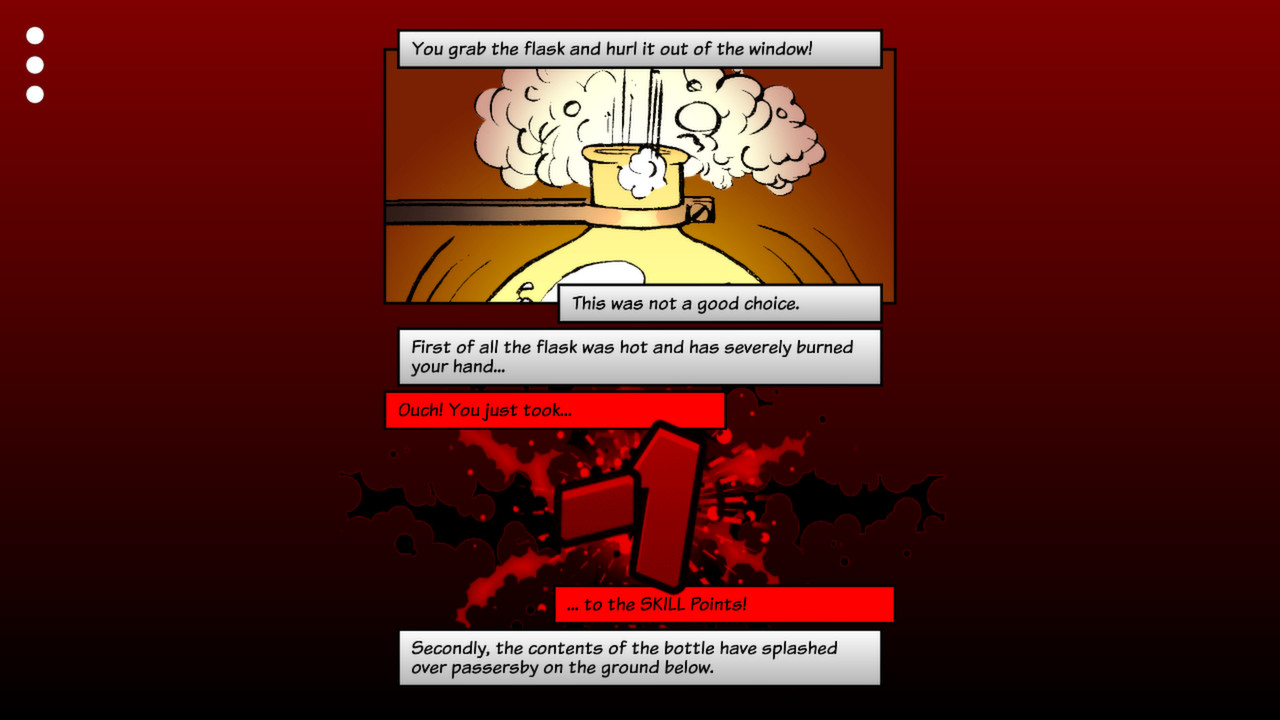 One improvement is an overhaul to the combat system; though still governed by dice rolls (albeit ones that play out invisibly to the player), there's a risk/reward system involved in which you can attempt to do deal more damage per turn with a higher chance of doing no damage at all.
Luck points can be collected and spent on trading cards (there's more than 70 of these to collect, which is a nice touch). Additionally, you can now choose between male or female heroes and give them a choice of name from a random, endlessly cycling collection of them. Your appearance can also be randomised somewhat, though this feels a little limited.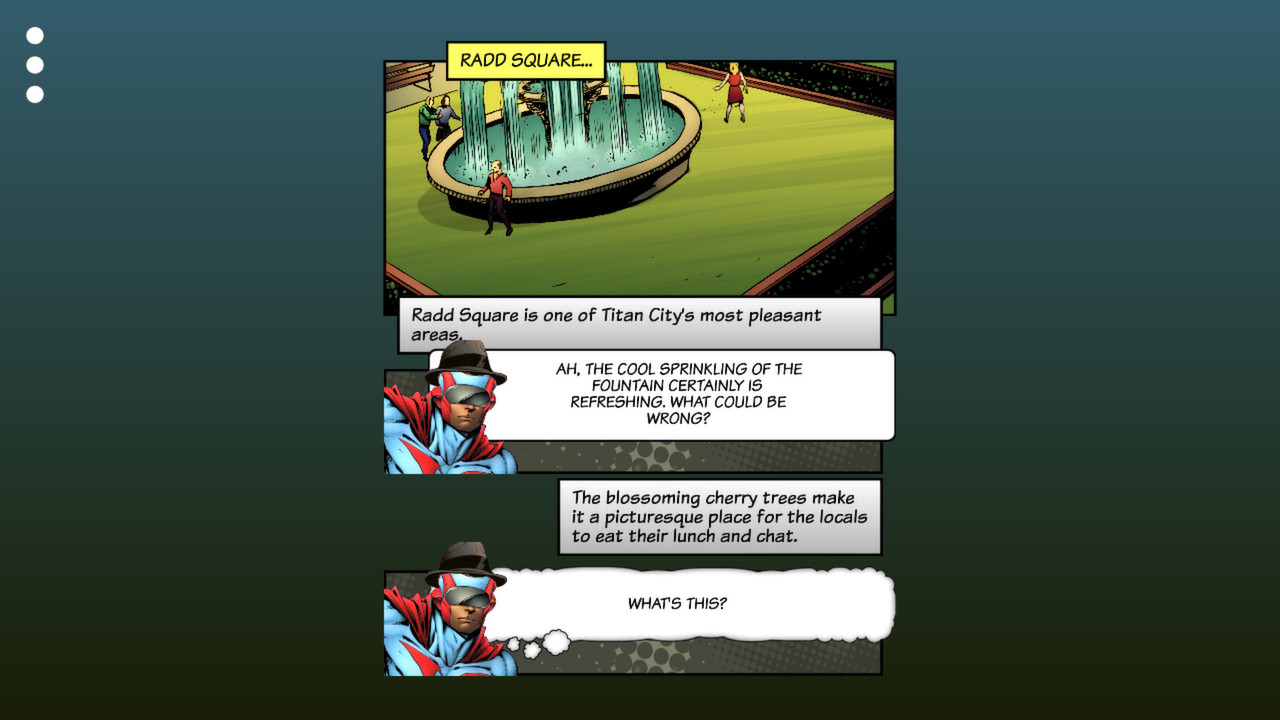 Checkpoints are put in place too, mimicking the old finger-bookmark method that everyone used when playing through a Fighting Fantasy book – so you can start again at points you've already reached, if you choose to.
The soundtrack and general visual design is excellent, paying homage in particular to the campy feel of adaptations such as the classic 1960s Batman TV series.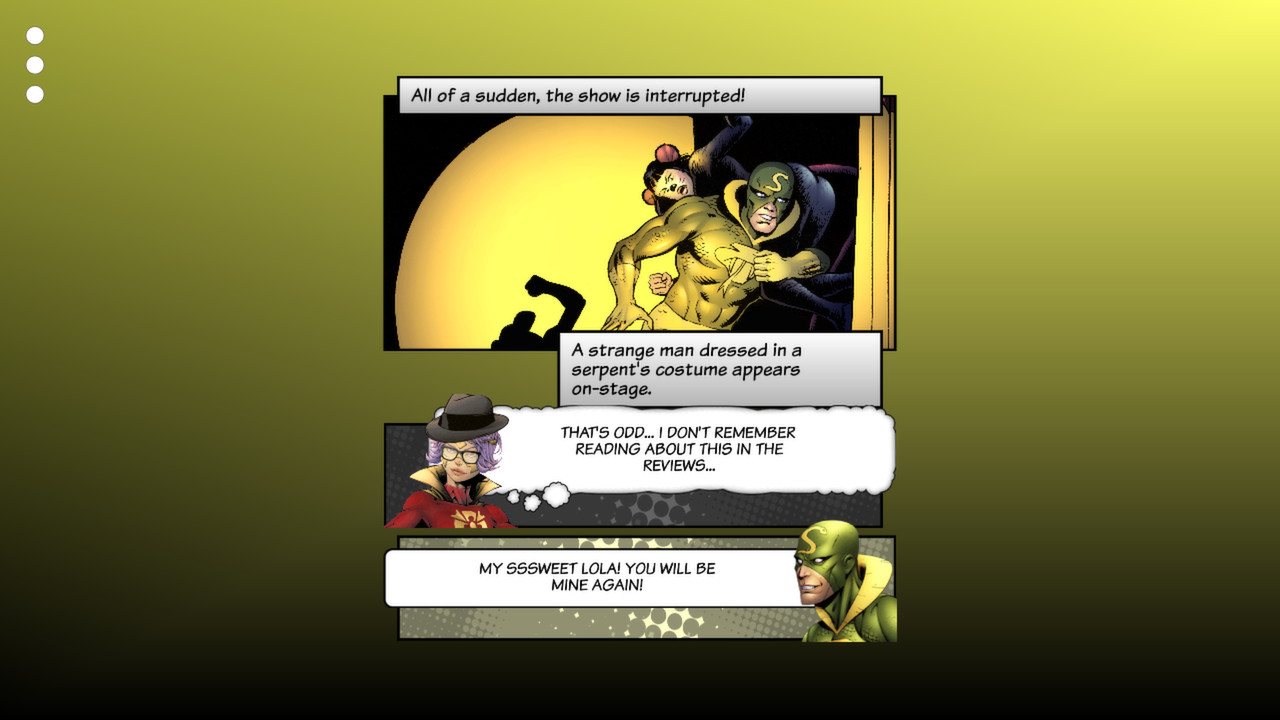 However, the same weaknesses present in the original books are still here, with the narrative feeling a little too restricted at times – and with some unfairly cheap endings that bring your adventure to a close without even giving you a chance to respond, it can be frustrating at times.
I've enjoyed playing Appointment with F.E.A.R., however – but it's hard to say how much my opinion is coloured by the nostalgia I have for the source material, which I'm still very familiar with even 35 years after I first played through it. It's not as expansive or densely written as you'd expect from a modern visual novel, even if it does have a similar feel to one.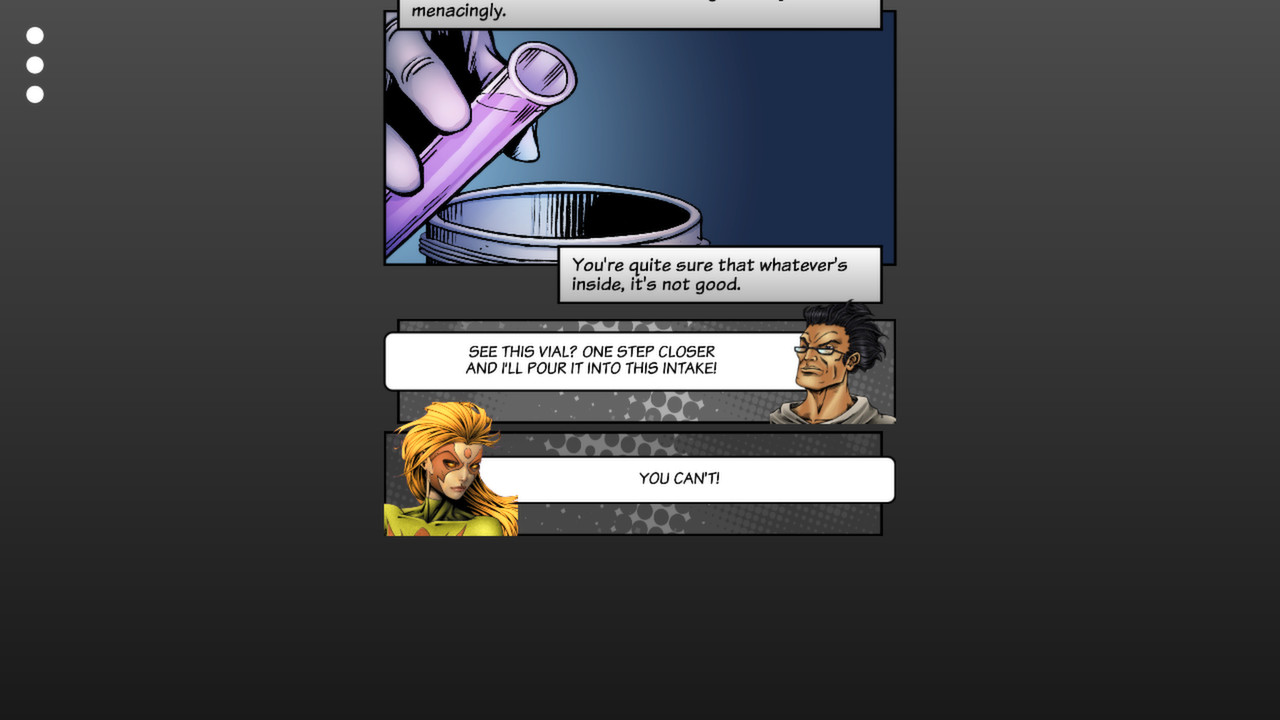 Tin Man Games have done a great job of lovingly, faithfully recreating the book – and have made some excellent, thematically appropriate enhancements too. In bringing Appointment with F.E.A.R. into the digital realm, however, there's no denying that – due to the original format it was created for – it does feel somewhat dated and limited in scope.
Enjoyed what you've read? Want to support my blog? There's no pressure of course, but every penny helps to keep this site running, as I earn no income from my writing here. If you did want to support the site and my writing, you can do so at either of these links: Ko-Fi.com/geekmid or PayPal. Any donations are truly appreciated, but so is the fact that you took the time to read my articles. Thank you so much!
All donations are gratefully received and will help me keep the lights on here – as well as help to keep my writing dream alive! Please be aware though: there's no pressure. I just hope you've enjoyed reading my article!