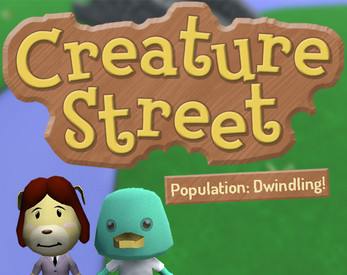 Available now on PC (itch.io – pay what you want)
It seems like everyone and their anthropomorphic dog is playing Animal Crossing right now, which is great. Though Animal Crossing has always been popular – I've been a huge fan since 2004 – with the arrival of Animal Crossing: New Horizons at a time when many people have an unusually large amount of time to play games, it seems to have absolutely exploded in popularity – with some very unexpected fans emerging in recent weeks.
So I feel like the time is right for a parody of Animal Crossing. Now, more than ever, people will truly understand the subtle, affectionate but pretty dark digs made at the source material that pop up in Creature Street. A very brief indie game set in a suspiciously familiar looking place, with some very familiar looking inhabitants, the NSFW Creature Street sets players the task of solving a horrific murder by talking to the animals dotted around the map. It isn't very long – if you manage to reach the end in 10 minutes, you've probably spent some more time exploring than you really need to – but it's very cleverly written and has a deliciously meta twist. Even the offensive name of the town and its unfortunate Mayor are explained within the context of what's happened – so do persevere past that point!
Creature Street is well worth trying out. It's free to download (giving a tip to the developers is optional) and will definitely raise a few dark smiles along the very short journey it takes you on. If you're not familiar with Animal Crossing, it's very likely that the humour and everything that occurs will baffle, rather than amuse, but for fans this is an excellent little indie experience – though you may never look at your animal friends the same way again.
If you've enjoyed reading this – or any of my other content – it'd be much appreciated if you're able to share this article via social media.
I'd also be forever grateful if you're able to support me via: Ko-Fi.com/geekmid or PayPal – all of my work is provided for free and I earn no income from the blog, so any donations are gratefully received and assist me in keeping my writing dream alive.
Above all else though, thanks for reading – I truly appreciate it!
All donations are gratefully received and will help me keep the lights on here – as well as help to keep my writing dream alive! Please be aware though: there's no pressure. I just hope you've enjoyed reading my article!