Available for iOS, Android (version played) and PC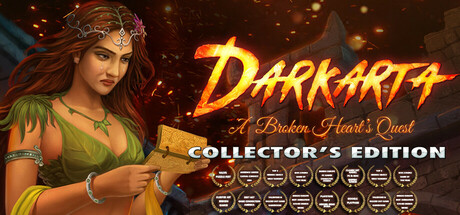 Though hidden object games and visual novels are hugely popular games, particularly among mobile and casual gamers in general, I don't have a great deal of exposure to either type of game. So it was quite a pleasant surprise when I played Darkarta: A Broken Heart's Quest on my Android device; the production values are extremely high, with a superbly produced, fully voice acted intro.

Those production values carry over to the main game, with wonderful sound design, an impressive soundtrack and beautifully vibrant high resolution visuals. The puzzles are taxing, with some surprising types of interaction involved in the solutions – and if you're as bad at lateral thinking as I am, you'll be making good use of the excellent hint system.
It's a nice introduction to the world of hidden object games if that's something you've been curious about but never tried before; with a variety of collectables and unlockables to discover, there's a lot here to work your way through too. I found Darkarta to be quite a relaxing, gently taxing absorbing experience and it's certainly made me want to check out more hidden object style adventures.
I'd be forever grateful if you're able to support me via: Ko-Fi.com/geekmid or PayPal – I earn no income from the blog, so any donations are gratefully received and assist me in keeping my writing dream alive, helping me to keep the website running and to bring you fresh new content on a daily basis. Thanks for reading – I truly appreciate it!
All donations are gratefully received and will help me keep the lights on here – as well as help to keep my writing dream alive! Please be aware though: there's no pressure. I just hope you've enjoyed reading my article!