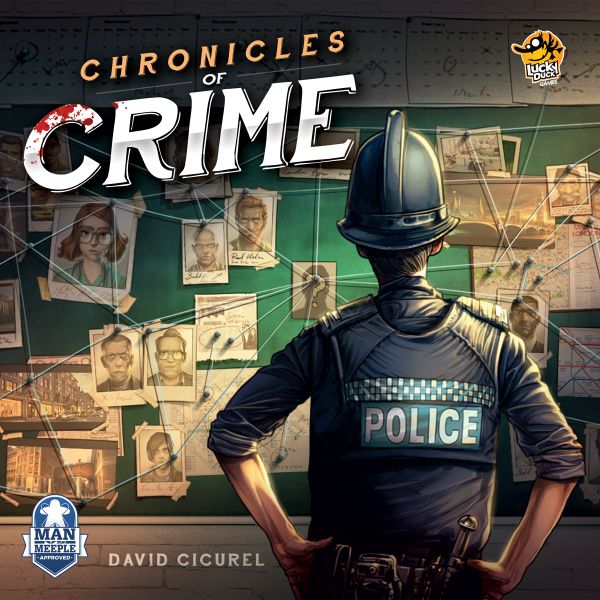 There's an increasing number of games that aren't afraid to use technology in an interesting and pivotal way. Chronicles of Crime is one such game: a police procedural board game in which the components can be used in a variety of scenarios, both included with the base game and as downloadable extras, via an app available on iOS and Android. The cards – characters, forensic contacts, locations and different type of objects – can all be repurposed depending on the needs of each scenario, which take the form of criminal cases to solve.
Each card has a QR code, which – when scanned in the app – then reveals information on who or what the card is and where they fit into the scenario. The app also allows you to interrogate characters, piece together clues and search crime scenes for vital evidence.
Clues are pieced together on a large evidence board; the players travel between locations via different cards, with some revealed during play as clues come to light. The app tracks the time taken to solve elements of the case or interrogations; some time-limited events can also come into play during the course of the game.
The code scanning is a revelation. It opens the game of simple components up into something that is so much more than it at first appears. Games can be dark, adult affairs or more light-hearted, depending on the scenario – all using the same, included components. Character cards will be used in hugely different ways in each scenario too, giving the feel of a rotating cast of actors involved in each plot.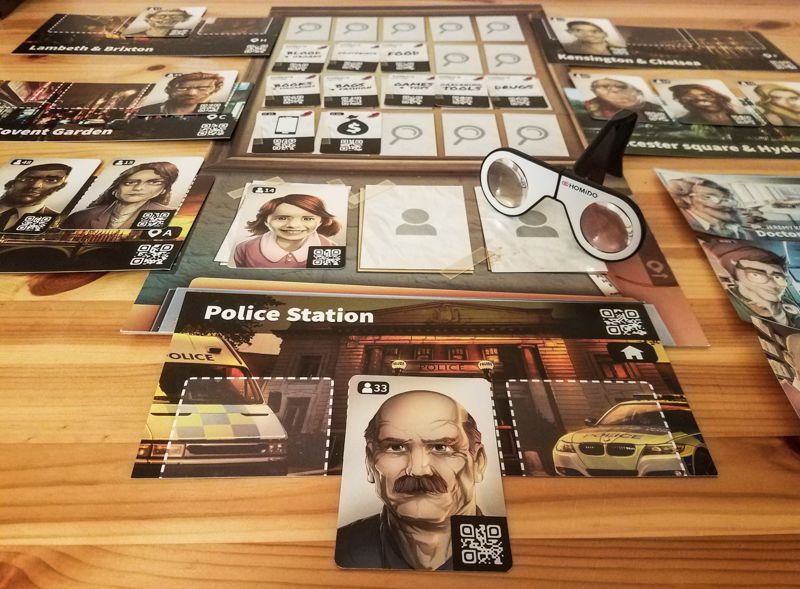 The physicality of board games really does meet the more high tech world of apps and video games in Chronicles of Crime, with the game playing to the strengths of each medium. Player interaction and co-operation is high, with plenty of discussion of clues, evidence and interrogation points needed to fully succeed. Though it's possible to partially succeed in a scenario (sometimes there's more than one element to solve in a case), it's still satisfying to reach the end with at least some form of successful deduction.
There's an issue – which afflicts quite a few games of this nature, such as Escape Room games or other crime-solving games that rely on specific scenarios – in that scenarios can only be played once each. Though this is the case, replay value does come in the form of the extra scenarios included which re-use the included components; five are available with the main game. More can be downloaded, at a cost for each (which, I'm afraid to say, does feel a little steep for one-use scenarios).
There are further expansions either available or coming soon which allow you to move the game away from the London setting of the core set. One such expansion, Noir, shifts the action to 1950s Los Angeles – and includes a further four scenarios, as well as an entirely new gameplay mechanic (Action Cards).
There are even VR Goggles – available as an add-on – which allow you to search crime scenes in first person via your mobile device. These also come packaged with an exclusive scenario.
I'm definitely looking forward to playing more of Chronicles of Crime; it's a fantastic and unique experience which allows for a lot of table talk and interaction with other players. The integration of the app with the components and custom scenarios is a stroke of genius. The only downside for me is the fact that scenarios can only be played once. Ho wever, as there's a lot of support in the form of extra scenarios (via in-app purchase), this ensures that there's a lot of content to play through – providing you're willing to pay extra to do so. Lucky Duck Games definitely have an absolute winner of a game on their hands here, despite that flaw – and I hope it finds the audience – and success – it deserves.
If you've enjoyed reading this – or any of my other content – it'd be much appreciated if you're able to share this article via social media. I'd also be forever grateful if you're able to support me via: Ko-Fi.com/geekmid – which would assist me in writing even more content just like this. Above all else though, thanks for reading – I truly appreciate it!