It's been another busy week for me; somehow, however, I've still managed to maintain a pace of an article a day. For most of the week, I've tried to push myself into slightly unfamiliar territory and wrote several non-video game related pieces – there's definitely been a more traditional, card-and-board-games feel to the blog this week, which wasn't necessarily intentional!
Adventure Games: The Dungeon
Kicking off a very tabletop-heavy week was my look at the excellent Kosmos game series Adventure Games – and specifically The Dungeon, which is the more fantasy-themed entry in the series. Being inspired by classic PC point-and-click games, The Dungeon is a fantastic experience that effectively hits the mark in translating a very digital experience to the tabletop. With straightforward gameplay that allows you to jump in with no preparation, some clever item – and location – combining mechanics and an excellent sense of a map building up as you explore, this one is highly recommended.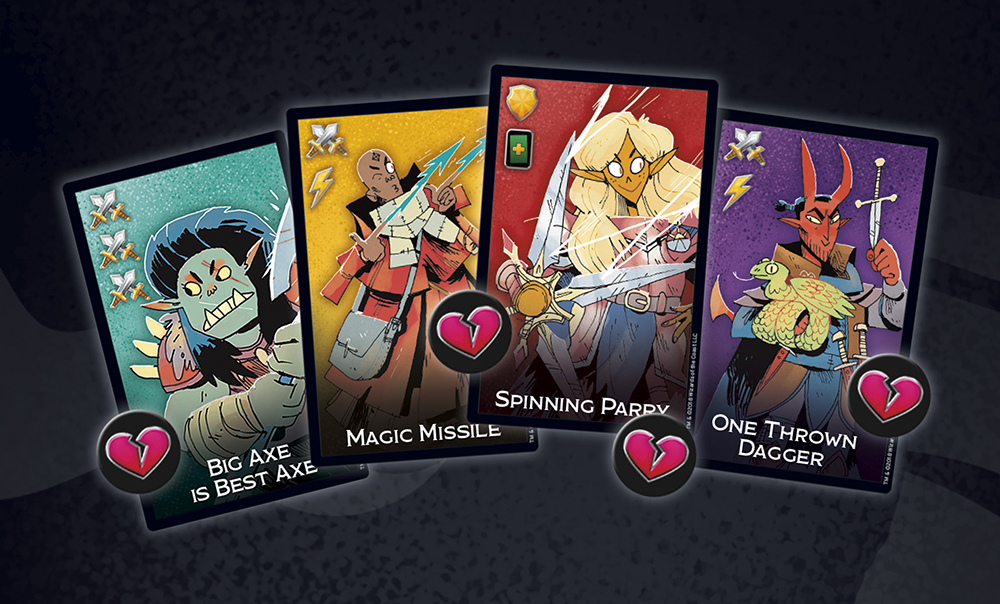 Another card game – this one based on Dungeons & Dragons – though this one's a lot simpler and more fast-paced than Adventure Games: The Dungeon, being a straightforward (though very light-hearted and cartoony) battle to the death for 2-4 players. Though still fun for less than 4, a full group is definitely the sweet spot for Dungeon Mayhem – and, at around 10-15 minutes per round, it definitely doesn't outstay its welcome. Easy to learn and teach, being simple enough for younger players, it's a great game for families or those gamers looking for a quick, easy and fun game to play with their friends.
The Origins of Q*Bert's Name – and Other Stories
This was a fun one; back to video games, for a look at the origins of a few classic arcade titles. Q*Bert's was a bit of a facepalm moment for me, it has to be said!
Another tabletop game came next, with a review of Rainbow Knights. It's a cute, albeit very simplistic tile laying game of rainbows, knights and their often unusual steeds. I adored the Adventure Time-esque artwork and beautiful transparent cards, but do have concerns about how much fun the game will be in the long term.
The 26th (!) article in my semi-regular Bargain Bin series, taking a look at games from older generations that can currently be found at incredibly cheap prices, I played Stuntman: Ignition and *spoiler* absolutely hated it. Despite a fun premise that should allow for some creativity, the reality is that it's overly fussy, badly designed and frustrating right from the start. Very disappointing and a rare 'nope' from the Bargain Bin.
With launch just a few days away, I took a look at Google's Stadia – and the odd lack of fanfare coming from the corporate behemoth on their new platform. With us being even closer to launch now, the silence on Stadia is absolutely deafening; will Google drop it like a stone, as they have done with so many other experimental ventures in the past? Time will, of course, tell.
Finally, yesterday – excited by the recent launch of the fourth wave of cards for the Transformers TCG (Siege II: War for Cybertron Trilogy), I took a quick look at the different innovations and card types that the game has brought, quite literally, to the table. For me – a lifelong fan of gaming, TCG/CCGs and Transformers – it's been wonderful to see the game develop and rise in popularity. Though it's often difficult for new collectible card games to remain popular and continue to be available in the long term, the Transformers TCG has a deep lore to draw from, along with mechanics that make use of said lore in incredibly interesting and faithful ways.
So, another week ahead – the likelihood is that there'll be a return to the video game content my regular readers are used to, especially as I have so many to cover. I look forward to bringing you more news, opinion and reviews over the next seven days. Thanks, as always, for reading!
If you've enjoyed reading this – or any of my other content – it'd be much appreciated if you're able to share this article via social media.
I'd also be forever grateful if you're able to support me via: Ko-Fi.com/geekmid or PayPal – all of my work is provided for free and I earn no income from the blog, so any donations are gratefully received and assist me in keeping my writing dream alive.
Above all else though, thanks for reading – I truly appreciate it!
All donations are gratefully received and will help me keep the lights on here – as well as help to keep my writing dream alive! Please be aware though: there's no pressure. I just hope you've enjoyed reading my article!