Though I'm not great at problem solving and the lateral thinking that certain puzzles require, after enjoying a number of Escape Room style board games (such as games in the Exit and Escape series, as well as the more point and click style gameplay of Adventure Games) I've started to enjoy working through puzzles in a group, with a variety of different players (of all ages and skill levels). I've found each one to be a wonderful social experience, with a great sense of achievement when overcoming puzzles together.
I was intrigued when I learned of the Deckscape series of 'Pocket Escape Room' games, but when checking out more information on the series – as with many of the escape room style games currently being released by various board game publishers, there's a lot of them – I stumbled upon a game in the same format, but with a slightly different name and feel: Decktective: Bloody-Red Roses.
Though the same size as the Deckscape games, the Decktective game (so far there's only one available) is not billed as an escape room style game; rather, it gives players a crime to solve.
Building a three dimensional crime scene, cleverly constructed from the single deck of included cards and the box itself, players have a hand of cards containing potential clues – which can either be played to share the details with the group or archived, in order to allow for higher level clues to be played on subsequent turns.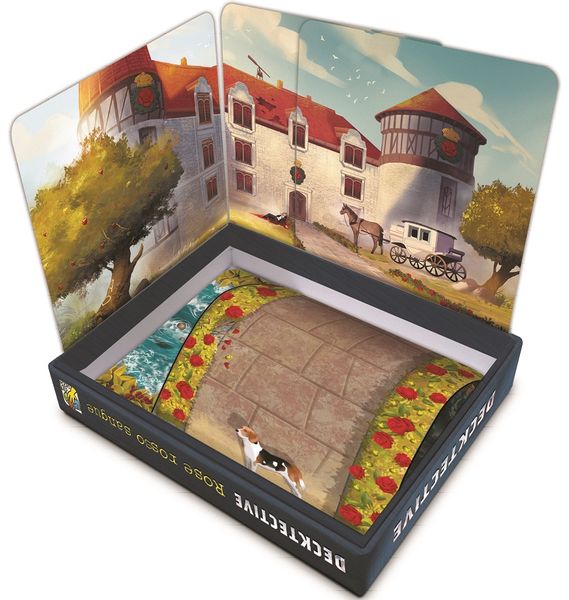 Players can only share the names of their cards, without disclosing the details if they're archived. Once all clues have been played, the deck runs through a series of questions – and players must choose which answers they believe are correct in order to solve the crime. Points are awarded based on how many questions the players answer correctly, meaning that it's possible to solve the crime without necessarily knowing every little detail (points are awarded out of 10 – with 10 being the crime solved perfectly, 7-9 being solved with a few details missed and so on).
It's a very clever little game that's incredibly simple to play; though the Agatha Christie-style crime itself is relatively straightforward to solve (as long as players don't somehow end up archiving all of the important clues, which is incredibly hard to do), getting the perfect 10 is a little more challenging. It moves at a lightning pace and is incredibly involving; choosing which clues to reveal and which to archive provides agonising decisions on every turn. There's a few plot twists along the way which add intrigue and – in an especially clever touch at one point – even change the crime scene.
A tip: it really pays to study every element of the crime scene and the clue cards; there's an awful lot of information presented visually as well as in the written details. Even the smallest detail may prove to be significant.
It's not possible to get stuck, which can often be the case with escape room games. Though there's a real satisfaction in finally working out how to progress through the clues given in a game more closely resembling the escape room style experience, it was refreshing to play through Decktective, which didn't come to a halt at any point. What the Bloody Red Roses game does share with the more escape room-esque experiences is the fact that it can only be played once; there's just one case to solve and, once played, there's no way it could be played again.
Don't let that put you off though. It's an extremely well thought out game; the 3D crime scene is a wonderful idea, brilliantly implemented – and it's full of excellent touches, such as the periodic plot twists that occur during the investigation. Piecing together the clues is very satisfying and, though it'll only last you an hour or so from beginning to end, it's a great way to spend that hour with friends or family.
It's a shame that there's only one Decktective game currently available; everyone in my group – myself included – would most definitely be keen to play more (we all lamented the fact that we couldn't play another as soon as we'd finished it!). For some reason, the Deckscape games seem to be a bit more under the radar than the two biggest brands of board game escape rooms – Exit and Escape – but, on the strength of Decktective, I'm now very keen to check them out.
Enjoyed what you've read? Want to support my blog? There's no pressure of course, but every penny helps to keep this site running, as I earn no income from my writing here. If you did want to support the site and my writing, you can do so at either of these links: Ko-Fi.com/geekmid or PayPal. Any donations are truly appreciated, but so is the fact that you took the time to read my articles. Thank you so much!
All donations are gratefully received and will help me keep the lights on here – as well as help to keep my writing dream alive! Please be aware though: there's no pressure. I just hope you've enjoyed reading my article!