Available: 21st August 2020 on Steam, Switch, iOS and Android
There's something to be said for smaller scale games with a laser focus on just a few brilliantly refined and compelling mechanics. One Line Coloring is a game of this nature; essentially, all you do is trace lines around different patterns – not unlike a dot-to-dot puzzle – attempting to complete each line without crossing an already completed one. If you do so, you'll create a charmingly pastel-coloured, low-poly 3D model that is then placed into an animated diorama alongside other models that you've completed.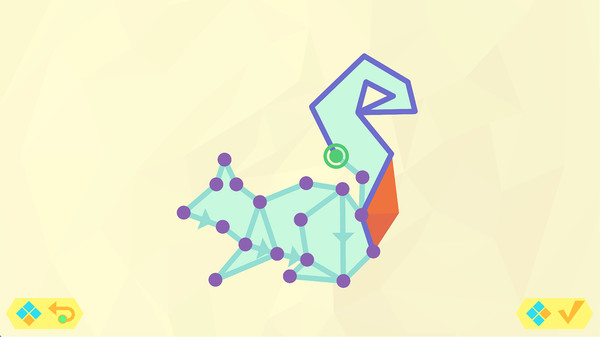 It's incredibly straightforward and complications are gently added, such as lines that can only be completed in one direction or a fixed starting point that you have to work from. It's a nicely relaxed challenge, with an excellent soundtrack and a pleasingly minimal visual style.
The biggest weakness – and I'm truly nitpicking here – is that a few of the menu symbols are a little obscure (though there's a minimalism to the menu options, in keeping with the minimalist approach to the entire game), as well as the fact that there doesn't seem to be a way to undo a single wrong move; instead, it seems that you have to start a puzzle over again completely if you make a misstep. However, with each puzzle rarely being overwhelmingly complex (though some of them do look like a challenge when you first see them!), this isn't a dealbreaker at all.
It's a superb concept, elegantly and stylishly executed. Puzzle game fans or those players looking for a pleasant, laidback challenge will find an excellent experience here. It's a wonderful little game – and with more than 100 puzzles to complete in six different scenes, it's got a lot to offer in terms of content. It's easy to pick up and play for players of any age or skill level; One Line Coloring is a brilliantly accessible game and one that I'd highly recommend checking out when it's released on the 21st of August. You can add it to your Steam wishlist at the store page here.
Enjoyed what you've read? Want to support my blog? There's no pressure of course, but every penny helps to keep this site running, as I earn no income from my writing here (though I may earn small fees from affiliate links posted on my pages).
However, I'd be truly grateful for any support that you could offer – and it's easy to do so at either of these links: Ko-Fi.com/geekmid or PayPal.
Any donations are truly appreciated – and I also appreciate you taking the time to read my articles. Thank you so much!
All donations are gratefully received and will help me keep the lights on here – as well as help to keep my writing dream alive! Please be aware though: there's no pressure. I just hope you've enjoyed reading my article!