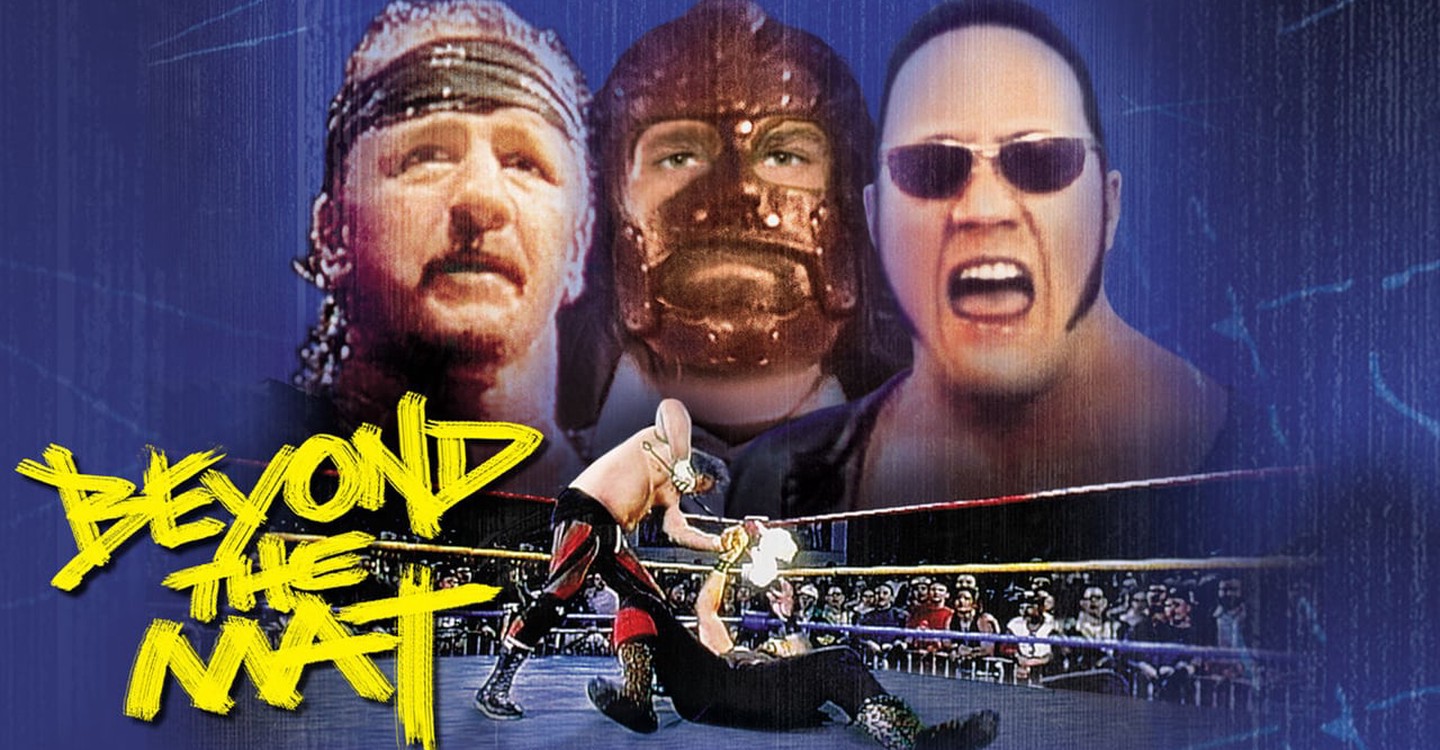 Keeping to the wrestling theme started with yesterday's review of comic book Invasion From Planet Wrestletopia, I figured it was way past time that I finally covered Barry Blaustein's brilliant 1999 documentary going behind the scenes of professional wrestling, Beyond the Mat.
It's a remarkable film that covers an awful lot of ground, from amateur hopefuls looking to get their shot at the big time to professionals such as Terry Funk at the end of their careers. We get to know the sometimes shocking and tragic history behind the legendary Jake 'The Snake' Roberts (who would be the focus of his own documentary in 2015 – The Resurrection of Jake The Snake), as well as his attempts to connect with his disinterested and neglectful father, himself a former wrestler. Jake's scenes with his eldest teenage daughter and his frank confessions to camera about his personal struggles with drugs and a dysfunctional sex life are surprisingly candid and heart-rending. The shots of Terry Funk's family as they watch the wrestler – an aging and dangerously injured 53-year-old at this point – are tough to see, given how aware they are of Funk's injuries and what it would mean if they worsened.
Yet nothing comes close to being as difficult to watch as the match between gentle giant Mick Foley – a caring, soft-hearted family man – and Dwayne Johnson, back in his days as The Rock. The scenes here focus intently on the reactions from Foley's wife and young children as the fight becomes more and more violent; the genuine upset it causes his wife and child make for painfully real, agonisingly difficult viewing.
Even sequences which didn't have a huge impact at the time of the film's release are now given new weight; as an example, the fact that female WWE wrestler Chyna died of an accidental drugs overdose in 2016 gives her scenes a real sense of poignancy.
Wrestling is a form of entertainment that many people dismiss as fake, but Beyond the Mat does a fantastic job of demonstrating just how punishing the effects of a life in and out of the ring can be for those involved.
Enjoyed what you've read? Want to support my blog? There's no pressure of course, but every penny helps to keep this site running, as I earn no income from my writing here (though I may earn small fees from affiliate links posted on my pages).
However, I'd be truly grateful for any support that you could offer – and it's easy to do so at either of these links: Ko-Fi.com/geekmid or PayPal.
Any donations are truly appreciated – and I also appreciate you taking the time to read my articles. Thank you so much!
All donations are gratefully received and will help me keep the lights on here – as well as help to keep my writing dream alive! Please be aware though: there's no pressure. I just hope you've enjoyed reading my article!