Humble Bundle has been working its magic outside of 'just' video games for a while now – and fans of comic books have been well served in recent months with plenty of bundles offering lots of reading material, giving readers absolutely astonishing value for money.
The latest comic book bundle is another excellent one; I've recently been taking a look at the output from AWA (Artists, Writers & Artisans) Studios and the talent they have working with them is nothing short of astonishing – with creators such as J. Michael Straczynski (creator of Babylon 5), Reginald Hudlin (film director and writer of an acclaimed run of Black Panther) and Garth Ennis (co-creator of The Boys), among others, all on board.
The bundle is the familiar three tier offering, with the highest tier giving the best bang for your buck – $99 worth of comics giving access to the beginning of lots of new, exciting series for just $15.
You'll be able to read Straczynski's first issues of The Resistance, a series in which a disaster kills millions of people across the world and sees thousands of people suddenly developing superpowers, as well as its spin-off, The Resistance: Reborns. Archangel 8 is another comic on offer; a series about the war between Heaven and Hell – and the eighth Archangel who operates outside of Heaven's sanction.
Red Border is a series that sees a couple fleeing a cartel, only to be rescued by someone who puts them in much more immediate danger…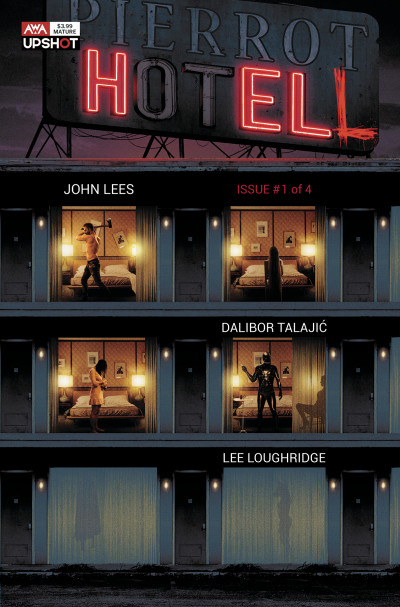 Then there's Year Zero, a comic that takes a look at the global effects of a zombie apocalypse, posing moral and theological questions along the way. Sticking with dark themes, how about Hotell – where few check out once they've checked in.
Added to all of that is behind the scenes content for some of those issues – and that's all just the $1 tier.
The highest tier will give you access to the rest of the issues for the aforementioned series, as well as ET-ER, a comic about the hospital that caters for, let's say, 'out-of-towners': Roswell General.
It's well worth checking out everything that's available – and each comic has a preview to give you a taste of what you'll be sinking your teeth into. Don't forget that Humble also allows you to choose what percentage of your purchase goes to charity too; in this instance, they'll go to The Hero Initiative, which assists the comics creators of yesteryear who may need medical assistance or financial aid.
You can check out the AWA/Upshot bundle here.
If you've enjoyed reading this – or any of my other content – it'd be much appreciated if you're able to share this article via social media.
I'd also be forever grateful if you're able to support me via: Ko-Fi.com/geekmid or PayPal – all of my work is provided for free and I earn no income from the blog, so any donations are gratefully received and assist me in keeping my writing dream alive.
Above all else though, thanks for reading – I truly appreciate it!
All donations are gratefully received and will help me keep the lights on here – as well as help to keep my writing dream alive! Please be aware though: there's no pressure. I just hope you've enjoyed reading my article!