When I first started Mid-Life Gamer Geek back in the now utopian beforetimes of *checks notes* 2019, my intention was to continue writing about gaming; video games, board games and perhaps tabletop RPGs here and there too. I didn't have the confidence to branch out into other areas at first and believed that I lacked the knowledge and insight to do so anyway.
Yet if you take a look at what I've been covering in the last 500 days or so (during which time I've managed to write a new article every single day), you'll see that I've been writing about much more than just games. Films, TV shows, comics, books, music and more have all been covered and you'd almost be forgiven for forgetting that I was ever intending to cover video games exclusively if you cast an eye over just the last week's worth of articles. Even when the item being covered wasn't a comic book, it was – and this was entirely coincidental – at least related to comic book source material. Let's check it all out!
Lawless: Book One – Welcome to Badrock
A week ago, I took a look at the first book of Dan Abnett and Phil Winslade's stunning Dredd-verse Western, Lawless. Colonial Marshal Metta Lawson arrives in the eponymous town of Badrock and struggles to maintain the peace between the various factions in and around the town. It's a great series, brilliantly illustrated by Phil Winslade in what may be career-best work (in a career not short of superb art). It's one of the most popular stories to emerge from the Judge Dredd Megazine in years – and for good reason.
Transformers/Back to the Future #1
Next up, two of my all time favourite 80s franchises combine for the first time in issue one of IDW's comic series Transformers/Back to the Future. Featuring a Hill Valley ruled by Decepticons and a transforming DeLorean named Gigawatt, it's a great start to what should be a really fun series.
Since taking control of 2000AD twenty years ago, Rebellion have proven themselves time and time again to be brilliantly respectful custodians of classic comic material. In more recent years, they've also secured the rights to vast swathes of British comic characters and series, including Tammy and Jinty, two titles aimed at girls that were first published in the 70s. The latest special featuring the two comic titles has only two longer length new stories, but both are excellent – and there's a decent amount of classic material and behind the scenes articles covering the original comics too. It's an excellent read that is suitable for all ages, though I fear it may be unfairly overlooked by Rebellion's usual audience.
Though I was very late to the party with this one, I was glad to finally get the chance to play Telltale's first episodic Batman game. It's wonderful; a dark, dramatic and twisting story in which both dialogue and action feel like they have real, lasting consequences and being Bruce Wayne is just as important – if not more so – as being Batman.
Tales from the Crypt Presents… Bordello of Blood
I'd always wanted to see the follow up film to the excellent Demon Knight, but poor reviews kept me from taking the plunge. Turns out, I was right to not bother – Bordello of Blood is shockingly poor, with the only redeeming feature being the always cheesy but brilliant Crypt Keeper. Honestly, I could have spent an hour and a half watching him banter with William Sadler's plummy Mummy and been much happier.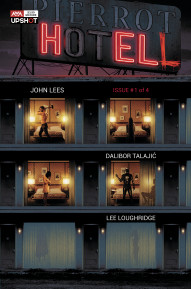 Though relatively new to the comics scene, AWA is a company run by people with decades of experience in comic book publishing. It really shows, with titles that have heavyweight names attached and some seriously impressive production values. AWA have partnered with Humble to offer a fantastic bundle of their excellent comics for a good cause – and at insanely reasonable pricing tiers too. Go check it out while it's still available!
As a huge fan of the Alien franchise, it pains me to say that Aliens: Defiance was a huge disappointment. The usually excellent Brian Wood scripts a story that has too little to say and it massively overstays its welcome during a boring second act. Alien: Isolation's Amanda Ripley makes a welcome – if short – cameo appearance and is set for a bigger role in the four issue sequel, Resistance.
So there we have it. Another week down and an incredibly comic-centric one at that. I hope you've enjoyed reading my articles as much as I have writing them – and I hope you join me for many more!
If you've enjoyed reading this – or any of my other content – it'd be much appreciated if you're able to share this article via social media.
I'd also be forever grateful if you're able to support me via: Ko-Fi.com/geekmid or PayPal – all of my work is provided for free and I earn no income from the blog, so any donations are gratefully received and assist me in keeping my writing dream alive.
Above all else though, thanks for reading – I truly appreciate it!
All donations are gratefully received and will help me keep the lights on here – as well as help to keep my writing dream alive! Please be aware though: there's no pressure. I just hope you've enjoyed reading my article!