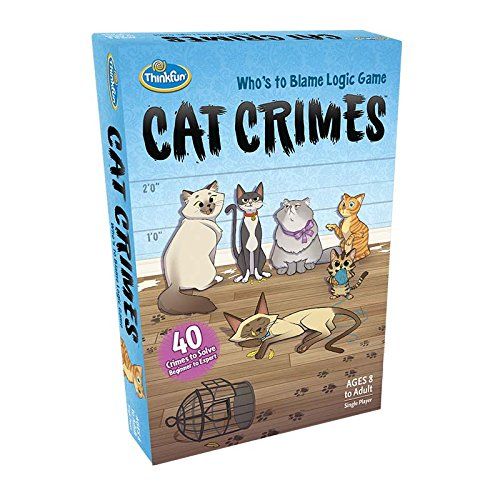 Though I've filed this article under 'board games', Cat Crimes isn't a tabletop game in the traditional sense. It's more of a solitaire logic puzzle, though of course multiple players can combine they grey matter and attempt to solve the 40 puzzles in the rather nicely packaged collection.
What players will be looking to solve are a variety of 'crimes' – an eaten fish, a broken flowerpot or missing shoes, for example – that one of the six house cats is responsible for; the task being to work out which feline is guilty. There's a crime scene that forms the centrepiece of each puzzle; the puzzles themselves are on cards which handily come in their own tuckbox, arranged in colour coded levels of difficulty from Beginner to Expert – with 10 puzzles for each level of difficulty; the reverse of each card reveals the solution to the puzzle.
Though they start out very straightforward and easy to solve, by the end they get very challenging indeed. It's a very pleasing game; being able to arrange the cats around the central board to solve the crime feels nicely tactile and the charmingly cartoony visual design adds a further layer of appeal. It's a game that's suitable for all ages; even though a few of the crimes have the potential to be a bit upsetting for much younger players (the eaten fish or bird, for example), the cartoony feel means that it's not presented in a way that feels problematic or distressing.
ThinkFun are known for their cleverly designed, compact tabletop puzzle games and Cat Crimes is an excellent addition to their already very strong offering. Excellent stuff.
Enjoyed what you've read? Want to support my blog? There's no pressure of course, but every penny helps to keep this site running, as I earn no income from my writing here (though I may earn small fees from affiliate links posted on my pages).
However, I'd be truly grateful for any support that you could offer – and it's easy to do so at either of these links: Ko-Fi.com/geekmid or PayPal.
Any donations are truly appreciated – and I also appreciate you taking the time to read my articles. Thank you so much!
All donations are gratefully received and will help me keep the lights on here – as well as help to keep my writing dream alive! Please be aware though: there's no pressure. I just hope you've enjoyed reading my article!